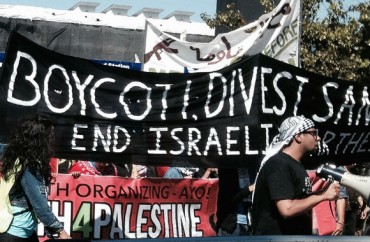 Executive board will still pursue anti-Israel agenda, though
In a stunning reversal, an academic group has narrowly turned down a boycott of Israel following a lopsided vote in favor of boycotting at its business meeting in November.
The American Anthropological Association's executive board will press forward with other actions against Israel shy of boycott, however.
Four times as many members participated in an online vote from April 15 through the end of May as did those voting at last fall's meeting in Denver, and they split almost evenly: 2,423 against the boycott resolution and 2,384 in favor.
The AAA said in a Tuesday release that it was the highest turnout in association history, with 51 percent of members voting.
Following the 1,040-136 vote in November to put the resolution on the spring ballot, the association seemed poised to become the largest professor group yet to endorse the boycott, divestment and sanction (BDS) movement against Israel.
The resolution came out of a report developed by a group of anthropologists with little experience in Middle Eastern affairs, calling for a boycott of Israeli academic institutions – but not "individual scholars" – to "encourage dialogue about human and academic rights in Israel/Palestine grounded in a set of shared principles of justice."
It said that "individual anthropologists are free to determine whether and how they will apply the boycott in their own professional practice."
American Anthropological Association rejected BDS Movement https://t.co/0GyPtXa0Jb pic.twitter.com/V0lYVGPzDB

— JerusalemOnline (@JOL_NEWS) June 7, 2016
Prof. Lisa Rofel at the University of California-Santa Cruz, an organizer of the resolution, told The College Fix in  an email the pro-boycott members will "continue our incredible education work we have done so far, and assess the next steps in light of the AAA Task Force's recommendations for action."
Asked how the resolution got defeated after such a lopsided vote last fall, Rofel said: "The result was a statistical dead heat, a virtual tie. We see this as representative of a larger sea change that is maturing and a growing international movement." She did not use the term BDS.
Will still highlight that Israel hurts 'Palestinian academic life'
Despite the resolution's rejection by the membership, the AAA executive board is moving forward with a similar anti-Israel agenda.
Approved by the board in "May 2016" – possibly while members were still voting on the resolution – the AAA will move forward with five actions out of eight that its original Israel-Palestine task force had floated:
Censuring Israel for restricting academic freedom, "inflict[ing] damage on Palestinian academic life" and "deny[ing full accreditation for Al-Quds University"
Issuing a letter to the Israeli government, asking various ministries to "Repeal Israeli laws that make it a crime to speak publicly in favor of a boycott" and "Change visa regulations for foreign scholars to teach, study and do research in Palestine" among other actions
Discussing "ethical and legal issues related to Israeli-authorized excavations in the West Bank and East Jerusalem" with other anthropology academic groups and discussing "the contested ways in which cultural heritage and archaeological research are implicated in these issues"
Continuing to push a pro-Palestinian view through its academic channels, such as establishing a system "to donate journals and books to Palestinian universities" and "publishing special issues on the topic and spotlight conference panels that would draw attention to these concerns."
The AAA did not respond to a request by The Fix for a timeline of its board actions in relation to the membership vote.
It's unclear if the AAA had already approved the agenda before the vote ended, or after the boycott resolution failed. A  description of the executive board states, "The Board is the Association's final and official point of decision."
Like The College Fix on Facebook / Follow us on Twitter
IMAGE: Alex Chis/Flickr