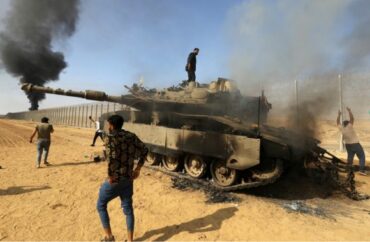 Signers want institutions to support 'Palestinian liberation'
Academics, writers, and activists pledged their "solidarity" with the "Palestinian resistance" in an open letter.
"We are writers who unequivocally stand with Palestine and its fight for liberation against the illegal occupation of 'Israel' and the violent settler colonial apartheid state," the letter states.
The Hamas terrorists who killed innocent civilians were part of the "resistance," according to the letter – "the resistance bulldozed part of the fence around Gaza and some Gazans set foot outside the boundaries of their besiegement for a moment."
Writers and institutions should take a stand in support of Palestine in several ways.
They must "stand in firm, vocal, and unwavering solidarity with Palestinian resistance against their occupation until liberation" which they can do "by amplifying Palestinian voices in a time of mass disinformation and silencing; and by openly discussing the occupation in your workplace, home, on social media, in your work."
Activists should also "urge the literary organizations and institutions that you carry affiliation with to take an unwavering public stance in solidarity with Palestinian liberation in your workplace and online."
The group also labeled specific "Zionist literary organizations" worthy of boycott, including PEN America. (PEN has released statements in support of freedom of expression on both sides and criticized the cancellation of a Palestinian author).
The signers also want a "boycott all other literary institutions who profess Zionist affiliation" and Boycott, Divestment, and Sanctions.
Signers include Sophie Lewis of the University of Pennsylvania, Marty Cain of Cornell University, and Eman Abdelhadi of the University of Chicago.
Conservative activist and investigative journalist Christopher Rufo shared the letter and commented on its contents. "Our academic institutions have been deranged," he wrote. "Our professors are now openly calling for blood."
NEW: A group of prominent academics have signed a letter justifying violent struggle against Israel, including: Adhy Kim (Harvard), RH Lossin (Harvard), Eman Abdelhadi (UChicago), Sophie Lewis (Penn), Marty Cain (Cornell), Maz Do (Cornell), Addie Tsai (William & Mary), Aaron… pic.twitter.com/OFdzxrdbNu

— Christopher F. Rufo ⚔️ (@realchrisrufo) October 19, 2023
The letter also repeatedly puts scare quotes around Israel and Israeli.
"Any form of Palestinian resistance is in no way equivalent to the daily violence of 'Israeli' settlers, the IOF [Israeli Occupying Forces], and the entire 'Israeli' state apparatus," the letter states. "Palestinian resistance exists because settler colonial occupation exists."
"The indiscriminate violence [Palestinians] are subjected to is the result of this asymmetry of power between 'Israel' as a settler-state and Palestinians who materially live under occupation, and those in the diaspora who are denied the right to return," the letter states.
The pro-Palestine and pro-Hamas letter comes amidst ongoing battles on college campuses that followed soon after Israel's declaration of war on Oct. 7. The declaration came after the terrorist group Hamas fired thousands of rockets at Israel and attacked civilians.
MORE: Columbia student groups back Palestinians
IMAGE: Anas Mohammed/Shutterstock
Like The College Fix on Facebook / Follow us on Twitter