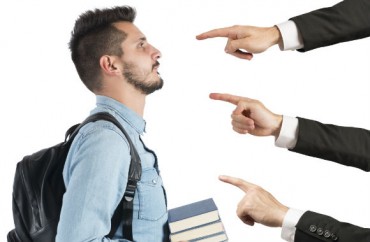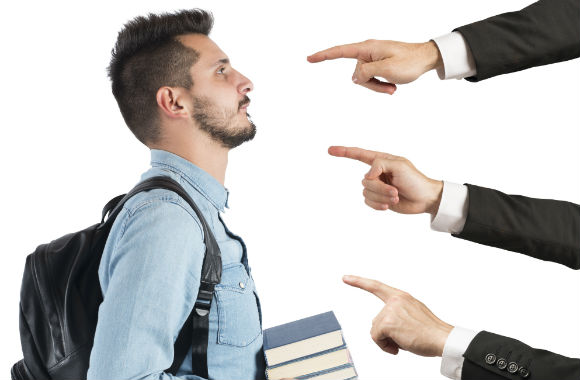 Avoid all but one Ivy
If you worry that your children could be swept up in a baseless disciplinary investigation at their colleges, a "first-of-its-kind report" by the Foundation for Individual Rights in Education will help you choose schools to blacklist.
Sadly, the vast majority of top schools as rated by U.S. News & World Report – including all but one Ivy League school – should be nixed.
The report evaluated the 53 institutions at the top of U.S. News rankings, finding that nearly three-quarters presume a student guilty in a disciplinary proceeding. (Most have separate procedures for sexual misconduct, where accused students fare even worse.) Less than half require their fact-finders, "the institution's version of judge and/or jury," to be impartial.
On a 20-point scale where an "A" grade equals 17-20 and an "F" equals 0-4, 85 percent of colleges received a "D" or "F" for due-process protections, including 79 percent for sexual misconduct proceedings.
Not a single college received an "A," though Cornell and the University of California-Berkeley drew "B" grades for both sexual misconduct and all other disciplinary proceedings. The University of Pennsylvania has the widest spread between fairness for sexual misconduct proceedings ("F") and all others ("B").
If you want to make sure your children can bring a lawyer who can fully participate in a proceeding, choose the University of Southern California or University of Wisconsin-Madison (Cornell allows but limits lawyer participation).
Unclear, outdated and conflicting policies
The scale is based on "10 core elements of fair procedure," such as "adequate" written notice of allegations, presumption of innocence and the right to cross-examine both witnesses and accusers – an element rarely granted to students:
The ability to cross-examine witnesses in real time is particularly crucial in campus sexual assault cases, which often lack witnesses and physical evidence and therefore may rely heavily on the relative credibility of the accuser and the accused. Yet 36 institutions (67.9%) do not provide students a meaningful opportunity to cross-examine witnesses in at least some cases, and 31 institutions (58.5%) do not provide such an opportunity in cases of sexual misconduct. Only two institutions (3.8%) provide an opportunity for cross-examination in all cases and clear guidelines that ensure all relevant questions are relayed to the party being questioned.
Colleges received two points for each element "if the safeguard was clearly and completely articulated," one if it "provided some protection," and zero "if the safeguard was absent, was too narrowly defined to substantially protect students, or was subject to the total discretion of an administrator."
One of the problems not directly captured by the point system is the number of institutions that maintain "several [policies] that overlap and sometimes conflict with each other," some of which remain online even though they have been rescinded:
Written policies at some institutions seem to suggest that in practice, students are afforded more information or more time to prepare or other safeguards than the policy explicitly enumerates. Without a clear statement that additional safeguards are guaranteed, however, these suggestions or inferences cannot be counted for the purposes of this report. Where institutions' ratings have suffered because of imprecise language or administrators' reliance on the mere implication of a safeguard, those schools can easily improve their ratings—and the integrity of their systems—by simply revising the language of their policies to be clear and explicit.
Protecting free speech while denying due process
Perhaps surprisingly, even schools rated highly by FIRE for protecting freedom of expression came out low on due process: The University of Chicago, for example, drew a "D" for both sexual and other misconduct proceedings.
Only one school failed to earn any points: Washington University in St. Louis for its sexual-misconduct proceedings. Lehigh University in Pennsylvania earned just one point – "right to appeal based on new information or procedural errors, but not if the findings are unsupported by the record" – for its sexual-misconduct proceedings.
Two-point institutions for both kinds of proceedings are Harvard, California Institute of Technology and Case Western Reserve University.
Of the four schools that use the same procedures for both sexual and non-sexual disciplinary proceedings, Rensselaer Polytechnic Institute was the lowest with two points. The others (University of Florida, University of Illinois at Urbana-Champaign and Tulane) received "D" grades.
The most ignored element of fairness is "unanimity for expulsion." Only Johns Hopkins requires all its hearing panel members to agree for both kinds of proceedings, while Duke and Stanford require it for sexual misconduct but not other proceedings.
FIRE offers free help to schools to reform their disciplinary procedures just as it's helped them reform their speech policies. If you have children at any of these schools, consider telling the institutions to contact FIRE for help ([email protected]) if they want your children to return next year, if not next semester.
Like The College Fix on Facebook / Follow us on Twitter
IMAGE: Shutterstock