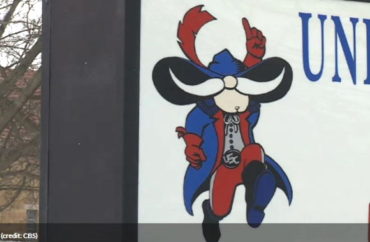 They also compare mascot to Hitler
Reggie the Rebel's time as a school mascot appears limited, because activists think he's on the wrong side of history and school administrators aren't inclined to fight about it.
Reggie is the mascot of United South Central High School in Wells, Minnesota, and of the larger Dilworth-Glyndon-Felton School District. The mustachioed Reggie, who bears some resemblance to Yosemite Sam, minus the ginger, is a "rebel," yet he is not supposed to be a member of the Confederate Army.
An earlier design was altered to make that clearer, reported WCCO, a Minnesota affiliate of CBS News.
In America's Civil War, the Union and Confederate armies were known as the blue and the gray, respectively, because of the colors of their uniforms. On the USC High School sign, Reggie is sporting blue, with some red contrasts, and a dash of gray.
The mascot also wears an exaggerated version of the Hardee hat. This hat was worn by troops of both armies in the Civil War but was most often associated with the Union Army's Iron Brigade.
"I love Reggie the Rebel. I grew up a Rebel, started school as a Rebel, always been a Rebel. I think it looks awesome. I love the way it looks. It doesn't look like anything, a soldier or anything like that," United South Central alum Stephanie Gonsalez told WCCO.
But a change.org petition started by @NewMascot4DGF, and its associated Twitter account, aims to replace Reggie. The Twitter account speaks for "Advocates in search of a New Mascot for Minnesota ISD #2164, Dilworth-Glyndon-Felton [school district]."
At press time, the petition had been signed by 131 supporters and the @NewMascot4DGF Twitter page had six followers.
The advocates' Twitter account has compared Reggie to Hitler and attempted to publicly shame Gate City Bank for issuing branded credit cards with Reggie's mug on them.
Nein, Nein, Nein!! Disgusting right? Imagine it's a consolidated school mascot, circa 2055. Long after the last WWII soldiers, and survivors of the Holocaust are gone; will someone think it's a good idea? This isn't cute, funny or inspiring. Neither is a Confederate Rebel. pic.twitter.com/NveU24i1vP

— New Mascot 4 DGF (@NewMascot4DGF) April 3, 2021
It also praised the Dilworth-Glyndon-Felton School District "for listening to us, for taking the issue of their Confederate Rebel mascot seriously, and starting to address this with the public."
In a statement widely circulated in the Minnesota press, DGF superintendent Bryan Thygeson said, "We are being proactive and getting the pulse of our district to see if we want to adjust our Rebel logo. In the coming months, the district will collaborate with students, staff and community stakeholders to have more discussions on the logo."
"Adjust" makes it sound like a minor tweak might do, say by making sure that all of the Reggie pictures feature colors consistent with the USC High School signage.
But in an earlier email to students, Thygeson made it clear that the district was planning to "transition away from the Rebel head logo" and actively seeking ideas for a replacement, the Twin Cities Pioneer Press reported.
MORE: Christian university ditches 'Crusader' mascot because of association with 'hate groups'
IMAGE: CBS
Like The College Fix on Facebook / Follow us on Twitter