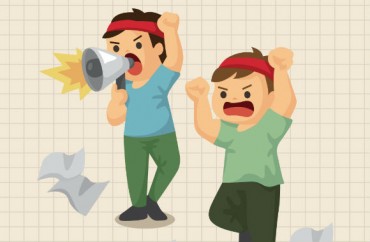 Prof asked class to interview DACA recipients; activists call it exploitation
A professor at Brown University has come under fire for an assignment that asked journalism students to interview illegal immigrants, with one activist group stating that the assignment serves to "exploit" undocumented individuals
Stephen Kinzer, a senior fellow in international and public affairs at the school, assigned the project as part of a course titled "International Journalism." In that project, according to The Brown Daily Herald, Kinzer requires students to write a "profile piece of a DACA recipient."
Kinzer, whom The Washington Post once referred to as "among the best in popular foreign policy storytelling," was sharply criticized by the student group Brown Immigrant Rights Coalition
In an April 5 Facebook post, the group announced "a campaign to denounce any and all unethical and irresponsible scholarship, journalism, and research" at Brown with regards to migration and undocumented immigration.
The group said that Kinzer's assignment constitutes "narrow, irresponsible journalism" and that the assignment serves to "exploit the ongoing suffering" of immigrants in this country.
The Herald reported that Amelie Vavrovsky, a student who dropped the course after just two class meetings, felt that "to go into a community that we have no connection to and extract information seemed unethical to me."
In a series of emails to The College Fix, Kinzer disputed the various accusations leveled against him.
"We don't write about anyone who does not want to be written about. Many people, immigrants included, are eager to tell their stories. My students have given a few of them the chance to do so," Kinzer told The Fix.
"All of the immigrants [my students] write about are participating voluntarily and enthusiastically," he said.
Kinzer told The Fix that "like all good journalists, [the students] do not impose themselves on the story, but allow the story to impose itself upon them."
The group leveled several other complaints against Kinzer, claiming, for instance, that he "displays a lack of awareness and care on this issue through his persistent use of the word 'illegal'" to describe individuals in this country illegally.
Included in the Facebook post is a list of demands directed to the university, which include, variously,"comprehensive training for faculty and student leaders on working with undocumented people," and "the hiring of more faculty with true expertise on the topic of migration and immigration."
The Brown Immigrant Rights Coalition did not respond when asked by The College Fix via Facebook whether or not the group was planning any direct action if their demands were not met.
According to The Herald, Nina Tannenwald, the director of Brown's International Relations Program, approved Kinzer's syllabus last semester, and told the student newspaper that she and the assistant director had "no objections to anything on the syllabus."
Kinzer denied claims that the assignment endangers illegal immigrants in any way.
"Stories that students have written about them are only class assignments and will not be published," he told The Fix.
"The students have worked hard to learn techniques of reporting and writing, and have spent many hours coming to know the subjects of their stories," Kinzer added. "I am immensely proud of them."
MORE: Protesters shut down classroom presentation by ICE 
MORE: More than thirty professors arrested during pro-DACA street protest
IMAGE: notkoo / Shutterstock.com
Like The College Fix on Facebook / Follow us on Twitter