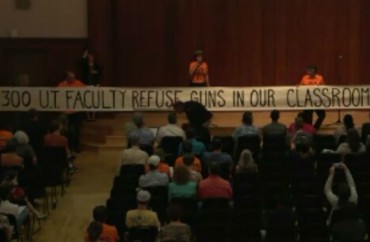 Many members of the University of Texas-Austin community, particularly faculty, are very unhappy that the Legislature is requiring public universities to allow concealed carry on campus, including in buildings.
They vented their feelings on the subject, including promises of civil disobedience, and used one giant prop Monday at the second of two public forums hosted by UT-Austin. (Both are archived in full for on-demand viewing.)
Members of the working group that's devising recommendations for how to carry out the policy – which gives university presidents some wiggle room – were sitting in the front row.
Several defenders of gun rights also spoke up, including one student who said the "childish" rhetoric of opponents of the law had moved him from undecided to supportive of concealed carry on campus.
That student, who didn't identify himself, thanked the anti-carry group Gun Free UT for helping him make up his mind.
As a member of the high school debate club, the student said he learned that people who make "ad hominem attacks" have weak arguments for their position. He's heard supporters of concealed carry called "gun freaks," "bullies" and other names, yet Martin Luther King Jr. and Eleanor Roosevelt also had concealed handgun licenses (CHLs) and no one thinks of them as gun nuts, he said.
"I really wish for more civility in this argument, especially in Facebook pages," the student concluded, identifying with pro-carry advocates for their "rationality."
He received light applause – a contrast to the enthusiastic applause that anti-carry speakers regularly received.
Give us entire gun-free buildings in which to teach
Steven Goode, law professor and chairman of the working group, opened the forum by noting the group had received more than 2,600 comments, many full of "fairly common misunderstandings" about the law.
It's not an "open carry" law, and people will still be arrested for flashing guns on campus, Goode said. People must be 21 or older to get licensed, making more than half its students ineligible to legally carry. Campus carry has been around for decades in Texas, just not in campus buildings, he said.
The main parameters on the working group is that UT-Austin can't "generally prohibit" carrying on campus, hence it needs feedback on where to set "reasonable rules" against carrying, Goode said.
Unsurprisingly, faculty members started immediately asking for general prohibitions on concealed handguns, and held up a banner advertising that 300 of them had signed a petition against complying with the law.
Sociology professor Javier Auyero asked the working group to dedicate a small number of buildings for faculty and students who don't want to teach "among men" who have guns. "I understand your hands are tied," he said.
The university should consider areas where "emotions run high," such as free speech areas and athletic facilities, to exclude guns, said Chuck Hempstead, executive director of the Texas Association of College Teachers.
Bathrooms are another problematic area because people sometimes take off their holsters to sit on the toilet and forget to put them back on, lecturer Matt Valentine said. He said most gun violence happens in "arguments" when "people lose their tempers."
Don't enable more rape
Some faculty said they'd break the law and face the consequences.
"A piece of paper and a little bit of training" will not keep a CHL holder from shooting someone accidentally, and it probably wouldn't have saved anyone from the shooter who killed nine at Umpqua Community College in Oregon last week, Martha Hilley said: "I think it's worth the trouble" to add a no-gun sign to her class.
"I will refuse [to allow guns in class] no matter what the outcome of this group is," said Ellen Spiro. She thanked campus police for quickly disarming a woman on campus who was about to commit suicide with a gun.
Sarcasm was in moderate supply at the forum. Students can also operate vehicles and they never have accidents, grad student Ryan Fitzgerald said to laughs. His generation is also at the prime age for a "psychotic episode."
Her voice breaking as she spoke, Assistant Professor Lina del Castillo said rape goes up wherever concealed carry is allowed. She cited statistics from Colorado and Utah, which both allow campus carry. "Please do everything in your power to keep guns from those who will attack and rape and use guns to coerce people into situations of sexual violence," she said to wide applause.
Professor Daniela Bini ran long over her allotted two minutes to argue that her freedom of speech will be inhibited under campus carry because she teaches "controversial literature."
RELATED: Texas professors plan to flout the law by telling students they can't carry guns
The founding fathers could safely enact the Second Amendment because "how many people could you shoot in three, four minutes?" said Bini, who is from Italy. She wouldn't have sent her kids to UT if campus carry had been in effect, and "great minds are not going to come and teach here either," she predicted. Bini received perhaps the loudest applause of the forum.
Faculty and staff will continue to foment revolt unless the school creates its own think tank for reducing gun violence, said a self-described gender studies professor. Johns Hopkins University, University of California-Davis and Harvard all have similar centers, she said: It's like the tobacco lobby being defeated by good antismoking research.
'My daughter's life … is not any less valuable' than the president's daughters'
Supporters of concealed carry appeared to be outnumbered at the forum – certainly they received weaker applause – but they were no less passionate.
No one with a CHL at Umpqua Community College  was allowed to face the "monster" who killed nine people last week, staff member Tina Maldonado told the audience. A CHL trainer and women's shooting league participant, she urged the working group to not make CHL holders take out their guns before going into certain areas, because it increases the chance of an accident.
President Obama, his wife and daughters stay safe because he's wearing a bulletproof vest and rides in an armored car, said another staff member, Scarlett Clay, also parent of a freshman at UT.
"They all seem to stay perfectly safe with armed guards with them at all times," and UT members should have the same right, Clay said. "My daughter's life … is not any less valuable" than his daughters' lives.
Are you policing backpacks to find hidden illegal guns?
Patrick Hillery, president of the campus Young Americans for Liberty chapter, asked what steps UT-Austin will take to make sure that any gun-free zones are gun-free "in more than name only."
He asked whether they would have metal detectors and armed guards, and how the school would stop someone from illegally carrying weapons in a backpack that appears to be book-filled. Hillery said he'd feel safer with licensed and trained adults are allowed to protect themselves "without arbitrary restrictions."
Student Dewayne Perry scoffed at the notion that anyone would be intimidated in class by a gun that was hidden. "Most mass shootings are planned well in advance" and happen in supposedly gun-free zones, he said.
A self-described veteran said he supports campus carry but believes faculty should be able to control their classrooms, because he came to UT-Austin for its academic reputation. The root of the issue is "trust – no one seems to trust the person sitting next to them" anymore," he said.
Like The College Fix on Facebook / Follow us on Twitter
IMAGES: Ustream.tv screenshot, Ellen Spiro's UT-Austin faculty page