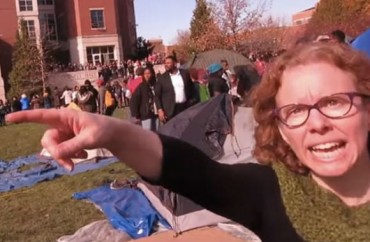 It's already illegal to block public spaces, so they aren't worried
Even as student journalists find themselves under fire by protesters seeking race-related changes in faculty, curriculum and facilities on college campuses, student journalism advocates are keeping their focus on changing state laws to protect student media from administrators.
Organizations including the Student Press Law Center (SPLC) have been working for months to advance such legislation. They scored a victory this spring in North Dakota, which approved legislation upending the Hazelwood Supreme Court precedent that lets institutions censor school-sponsored media that are not designated as public forums for student expression.
But academic institutions nationwide have grappled this fall with de facto censorship by protesters who seek to keep media coverage out of "safe spaces" they set up on campus, including the University of Missouri, Loyola University Chicago and Smith College.
"All of the recent events have involved obstacles put up by fellow students [as] opposed to the institutions themselves," Frank LoMonte, executive director of the SPLC, told The College Fix last week.
RELATED: Freedom of the press is under attack from universities and students
The Daily Beast reported that one Mizzou protester shouted "we calling the police because you ain't respecting us" at a member of the media as the protest group "linked arms and moved in a phalanx to push the press further back" to interfere with their coverage.
"Existing laws really adequately protect journalists access to public campuses," LoMonte said. "If someone had roughed the photographer up [at Mizzou, student journalist Tim Tai], there would be ample legal basis to take that person to court and throw them in jail."
LoMonte does not deny the gravity of restricting media access to public spaces: Earlier this month SPLC highlighted a student reporter from Mt. San Antonio College who faced disciplinary action for seeking information at the scene of a medical emergency. Administrators accused the sports editor of "bullying" his way into the hospital.
"Press restriction of access to public spaces hasn't been our main focus only because is risks diluting the primary message of the anti-Hazelwood campaign. But no doubt, that is a serious, press-related problem of its own," LoMonte said.
As student protests sweep college campuses nationwide, see our new legal guide on covering protests: https://t.co/oepNS9ibOw #collegemedia

— Student Press Law (@SPLC) November 25, 2015
Hence the organization's strategy has not been altered in response to recent controversies on campus.
"The situation in Missouri was about access to a public area on campus to report the news and was not directly related to student media," Jeremy Steele, executive director of the Michigan Interscholastic Press Association, an organization working alongside SPLC, wrote in an email to The Fix.
RELATED: Univ. of Missouri student: 'Several of us are afraid to disagree with other students'
"At this point, in Michigan we're still focused on bringing supportive organizations into our coalition, educating individuals within those organizations about the issue and beginning to do outreach with legislators," Steele said. "Once we have legislation introduced, we'll turn our attention to building support among the general public."
LoMonte pointed to North Dakota's success as the model to follow in this movement.
"It was a very low-budget, informal, grassroots strategy," he said. "We didn't have an army; we just had a SWAT team. We had a very motivated nucleus of about half a dozen educators and students, who did all the heavy lifting."
The North Dakota bill found its roots in a civic and citizen journalism class at the University of Jamestown in 2013. After researching and writing the bill, the class reached out to Democratic Reps. Jessica Haak and Corey Mock, who agreed to co-sponsor the legislation.
From New Jersey to Illinois to Maryland, the initiative in North Dakota has inspired grassroots organizations throughout the country.
SPLC recently introduced an interactive map that lays out the current level of administrative censorship in each state and connects users with representatives in order to voice their concerns.
RELATED: Assault and Title IX claims filed against Mizzou administrator, professor for attacking journalists
Like The College Fix on Facebook / Follow us on Twitter
IMAGE: Mark Schierbecker/YouTube