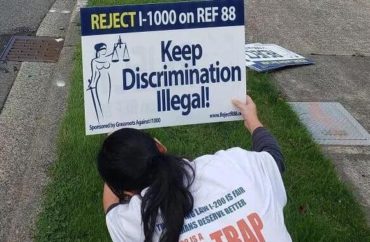 UPDATED
'Reject' campaign vastly outspent on advocacy
When the Washington Legislature overturned the voters' 20-year-old ban on affirmative action in higher education, employment and government contracting this spring, Asian American groups and other opponents of race preferences sprung into action.
They spent nearly all their money collecting enough signatures to get the issue on the fall ballot, leaving little for promotion of the "Reject" campaign, in contrast to the TV ads and election mailers purchased by the plush "Approve" campaign.
Yet the underdogs have won.
The Seattle Times reported a week ago that Referendum 88, which would bless the Legislature's approval of I-1000, was losing by a margin of 51.3 percent to 48.7 percent, based on figures reported by "most counties" the morning of Nov. 5.
With "nearly all ballots counted" Nov. 12, the lead had narrowed to roughly 15,000 ballots but remained "comfortably" outside the threshold for a mandatory recounted, the Times reported late that day.
Advocates of affirmative action tried to spin the results as a positive:
"After a week of ballot counting it is clear that I-1000 will fall just short of approval," Cherika Carter, campaign manager for the WA Fairness Coalition, said in a statement. But, "With nearly 50% of voters voting to Approve I-1000, it's clear that many Washingtonians want a better, more fair and equitable state with opportunities for all."
Opponents including Let People Vote helped sway voters by pointing to a commission the referendum would create that would "oversee diversity efforts at state agencies" and warning that existing benefits for veterans could be threatened, a claim rejected by the Yes campaign:
"Our coalition of volunteers from across the political spectrum defeated the Pro-88 campaign because voters didn't want a new system of quotas based on race, nor did they want a massive new unaccountable government bureaucracy to implement it,"  Linda Yang, one of the group's leaders, wrote in a statement Tuesday evening.
Though the referendum was immensely popular in King County, where Seattle is based, the vast majority of the state rejected R-88, often by wide margins.
They include King County's neighbors in western Washington – Pierce, Snohomish, Clark and Thurston counties – as well as the unified bloc of eastern Washington. Only the Canadian border counties of Whatcom and San Juan, and the ocean-bordering Jefferson County, have joined King County.
MORE: Lawmakers overturn voters to allow race, sex preferences in admissions
The Approve campaign told voters that overturning the ban would not institute racial quotas, claiming that using race "as a single factor" to choose "a lesser-qualified candidate over a better-qualified candidate" would remain banned.
It was backed by the political establishment, including the current Democratic governor, former Democratic governors and the liberal Republican ex-governor Dan Evans, the namesake of the University of Washington's public affairs school.
The Reject campaign emphasizes that there's no way to look at the law under review and not conclude that it sets up a quota system "by creating diversity goals and timetables to reach them," the Times reported last week:
Kan Qiu, a Bellevue resident who helped lead the opposition campaign, has talked about growing up in China and protesting at Tiananmen Square during the infamous 1989 demonstrations before coming to the U.S. for college. Qiu has told his story of coming to America and building a successful life, and has called the affirmative-action measure "divisive."
The Asian American Coalition for Education told The College Fix earlier this fall that it was supporting the Reject campaign with its more than 260 partners.
"Instead, promoting affirmative action by redefining preferential treatment in restricted terms will most likely result in racial discrimination against Asian Americans in Washington State without delivering the intended benefits," said Wenyuan Wu, director of administration for the coalition.
UPDATE: Voters decisively rejected Referendum 88 a week after this post was published, when vote tallies were still coming in. The post has been updated with the final results and the posting date has been changed.
MORE: Voters fight back after lawmakers overturn 20-year ban on affirmative action
IMAGE: Grassroots Against I-1000/Facebook
Like The College Fix on Facebook / Follow us on Twitter