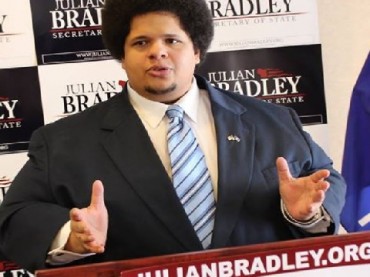 'Shattering Stereotypes' – college students learn from black Republican political hopeful who says conservative principles help poor people and minorities far more than liberal ones
Julian Bradley, 33, is a Republican – and that might surprise some.
That's because Bradley is an African American who says he grew up in a "Jesse Jackson household," and believed for much of his life he was a Democrat.
In a recent speech at the University of Wisconsin-Whitewater, Bradley said he remembers the strong connection his family felt toward Jackson during the 1984 Democratic convention, feeling as though Jackson and the Democrats knew what was best for his community.
But Bradley has been pro-life his entire life. And he began to further question the Democrats' platform about ten years ago after conducting research on the differences in the two party's fiscal policies, which further helped Bradley realize his beliefs matched up closer to a conservative ideology.
Today, as a candidate for Wisconsin Secretary of State, he champions conservative causes, running with a slogan #ItsTime. In 2013, Bradley launched his "Shattering Stereotypes" speaking tour, sharing his story of transforming into a Republican and rising through the ranks in Wisconsin politics.
The transition has not been easy, and it's been made more difficult after coming out an African American conservative. He said he has been called an "Uncle Tom" on a few occasions.
But Bradley, standing before a room full of college students during his March 20 campus address as part of his "Shattering Stereotypes" tour, told students not all Republicans are white.
Believe it or not, it's not always that obvious.
Bradley explained African Americans are firmly ensconced in the Democrat corner in part because of the misperceptions, hyperbole and ad hominem attacks spread about conservatives in the media and by the self-proclaimed leaders of the Black community.
Bradley said he's made it his mission to expose these stereotypes and champion the belief that conservative principles actually help poor people and minorities more than liberal principles.
In his talk, Bradley pointed out that President Eisenhower and Republicans in Congress pushed for the Civil Rights Act of 1957, and Republican support for the Civil Rights Act of 1964 was crucial to its passing. In fact, the Senate passed the 1957 act with 18 Democrats voting no, while zero Republicans voted no. The Democrats had blocked the bill fiercely, with Democratic Senator Strom Thurmond notoriously leading the longest filibuster in Senate history hoping to kill the bill.
Since then, the party of Lincoln has sought conservative policies that increase economic prosperity at all levels of the economic spectrum.
The myth that liberal, big government policies are the only way to help minorities out of poverty hurts this country, especially because these policies have not worked, he said.
Big cities that have been run by the Democratic Party for the last five decades are crumbling because businesses were over-burdened by taxes and companies fled the regions. Conservative policies, which promote job creation and help cities keep employers, allow minorities to rise out of poverty, he said.
Whenever governmental policies promote business growth, poor people benefit, he added.
The most rewarding feeling in society is earning an honest living, he said.
In the end, Bradley argued conservatives must tout the history of the Republican Party, as well as explain how conservative policies are intended to help all Americans of every race.
College Fix contributor Kyle Brooks is a student at the University of Wisconsin-Whitewater.
Editor's note: This article has been amended from its original version to reflect Bradley has always been prolife and to clarify his position on government aid.
Like The College Fix on Facebook / Follow us on Twitter
IMAGE: Internet screenshots