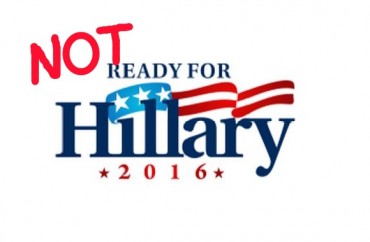 Not everyone at the University of Michigan is 'Ready for Hillary,' apparently
After a University of Michigan Facebook post depicting a student with a "Ready for Hillary" sticker on her laptop prompted anger by commentators it was quickly deleted off the social media site.
The Wednesday post was part of a new #WolverinesofAnnArbor campaign, and it included a nonpolitical statement from the female student writing about her college experiences and the pros and cons of studying abroad in London over the summer.
"Ready for Hillary" is a popular slogan supporting the embattled Democratic presidential candidate Hillary Clinton. The prominently displayed bumper sticker apparently prompted comments accusing the post of being intentional product placement and a political endorsement. It's unclear what those comments said specifically, as no known screenshot of the post was taken before it was deleted.
But the university, after deleting the post, released a statement that cited "the tone of the comments displayed in response to today's #WolverinesofAnnArbor post" as part of the reason for its erasure.
Other recent #WolverinesofAnnArbor posts have included photos of student sketching under a tree, a student smiling with a "Michigan Greek Life" shirt on, and a student studying; their posts include various thoughts on campus life and experiences.
"The content is personal and the comments each photo receives have a tremendous potential impact," UMich continued in its admonishment, posted Thursday. "… Statements made by individuals photographed belong to the individual and do not necessarily represent the beliefs and opinions of the university."
"#WolverinesofAnnArbor is designed to capture the diversity of our community, highlight educational pursuits and display dynamic personalities and experiences," campus officials stated before linking to the University of Michigan social media community guidelines.
The "community guidelines" state in part that "communication on social platforms is a two-way conversation; however, when necessary, page administrators reserve the right to remove user-generated content or comments in accordance with this policy for the safety and security of our audiences."
The guidelines also state "the use of obscene, threatening, discriminatory, or harassing language" can be a reason for removal, as well as an "endorsement or opposition of any person campaigning for election to a political office or promoting or opposing any ballot proposal."
Some scoffed at how the university handled the situation.
"It's ironic that you're reminding the audience of your community guidelines rather than following the rules that U-M is a public university with no connection to any political party," one commenter posted on University of Michigan's Facebook page. "Follow the guidelines of a public university and do not post pictures with a 'hidden' political message."
"It was most obviously the intent of the post to endorse Hillary Clinton," another poster wrote. "The photograph was taken in such a way that the sticker was the focus, not the student."
Stated another: "Are we not allowed then to have differing views than the one shown in the picture of reference? Do you really support diversity? Or is it as long as it agrees with your views of diversity?"
But others disagreed, writing: "I thought it was an excellent post. I'm disappointed to know others were critical. Hold true to your standards and celebrate U of M's diversity."
And UM senior Marissa Allegra told The College Fix that she did not have a problem with the post, that it was "simply a post about diversity and she happened to include her computer, which quite frankly her views are considered diversity."
Like The College Fix on Facebook / Follow us on Twitter