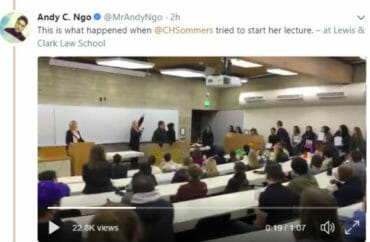 'The equivalent of book burning'
It took a few years and repeated student disruptions of a contrarian feminist's speech, but Lewis and Clark College is seriously considering a free-speech statement in line with the University of Chicago's pioneering statement.
The Pioneer Log reports that 13 professors across departments have signed the resolution, and it will "move into the adoption process" in two weeks.
Similar to the UChicago statement, this version says the Portland college must "guarantee all members of the Lewis and Clark community the broadest possible latitude to speak, write, listen, challenge, and learn":
[I]t is not the proper role of the institution itself to attempt to shield individuals from ideas and opinions they find unwelcome, disagreeable, or even deeply offensive. …

Although members of this community are free to criticize and contest the views expressed on campus, and to criticize and contest speakers who are invited to express their views on campus, they may not obstruct or otherwise interfere with the freedom of others either to express or to hear views they reject or even loathe. To this end, Lewis and Clark College has a solemn responsibility not only to promote a lively and fearless freedom of debate and deliberation, but also to protect that freedom when others attempt to restrict it.
English Prof. Lyell Asher helped put together the adapted statement in response to "the attempt by student protestors to decide for the rest of us what we could and could not hear," Asher told the Pioneer Log, calling the shutdown at Lewis and Clark's law school "the equivalent of book burning."
MORE: Protesters shout down Sommers after organizers refuse to disinvite her
The chair of the political science department, Todd Lochner, told the paper his support for the statement was not a "reaction to the Law School event" and he doesn't "know anything" about the targeted speaker, American Enterprise Institute scholar Christina Hoff Sommers:
But, to my mind, that is not the central thing driving my support for this policy. I just think that it is a useful time, when we look out across college campuses throughout the country, to reflect on what is our commitment to freedom of speech.
The editor-in-chief of the Log, Peter Kranitz, wrote an editorial saying the private college "has a free speech problem" and lending his support to the faculty resolution:
As a largely liberal campus, most people assume that their peers hold the exact same opinion as they do. … Yet many people with opinions that do not conform to the liberal stereotype feel like they cannot freely express their views. The Christina Hoff Sommers event on March 5 shows why: protesters made it abundantly clear that they do not think contrary opinions should be allowed on campus. …

We ought to be receiving an education, not an indoctrination. Hopefully this [faculty] resolution will lead to greater tolerance and more intellectually motivated criticism of ideas from both sides of debates and all views in between.
Read the article, resolution and editorial.
MORE: No apology from L&C for letting protesters shut down Sommers talk
IMAGE: Andy Ngo/Twitter
Like The College Fix on Facebook / Follow us on Twitter