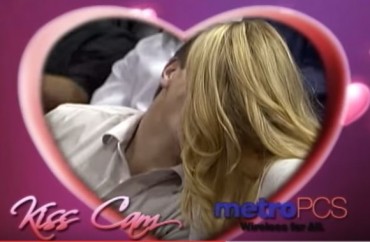 Banning tradition is extreme, many students tell The College Fix
Many Syracuse University students have voiced disagreement with officials' decision to suspend the "kiss cam" in the wake of one student's opinion published in a local newspaper that accused the tradition of promoting sexual violence.
Syracuse University student Steve Port fired off a letter to the editor to Syracuse.com earlier this month about kiss-cam encounters at the Syracuse vs. Wake Forest football game that argued he witnessed women being forced to kiss when the camera lingered on them.
"The instances I witnessed at the game encourage and condone sexual assault and a sense of male entitlement, at best. And they are an actual instance of assault, at worst," Port wrote in his letter.
In response, Syracuse suspended its kiss cam to assess concerns, officials told several news outlets. Now many students have said that decision was overkill, including Port himself.
"Honestly, I wasn't out to kill the kiss cam, I was just out to raise an important issue that I saw happening and that's important to me. I've always kind of been a little put off by it anyway, but never witnessed an actual act of — oh, my God, this woman is saying no and it didn't matter," Port told the Associated Press.
The Wall Street Journal also reported that an online poll in the Daily Orange, the student newspaper, found most students, nearly six in 10 respondents, want to keep the kiss cam and leave it as is.
"One in seven said it should be banned, and the remainder thought it should continue to operate, but not in the student section," the Journal added.
Many students, in statements to The College Fix, also said the biggest issue at the Wake Forest game was the incompetence of the cameraman, not the prevalence of the so-called campus rape culture.
Several students said the person given that responsibility should simply aim the camera at couples, and quickly move away if either person seems unwilling to participate.
"If they don't want to put people in uncomfortable situations, they could just keep the kiss cam on the older couples," said student Thomas Beckley-Foresta. "That's who seems to get the biggest kick out of it anyway."
Student Brianna Fernandez said the kiss cam is not harmful when used properly.
"The camera guy should have moved away from each pair that showed the women did not want to engage in kiss cam activity," she said. "The kiss cam can be fun if the operator is choosing couples strategically."
Student Victoria Rodio argued it's silly to suggest removing the kiss cam combats rape culture.
"Taking away the kiss cam doesn't seem like the route leading to a world without sexual and relationship violence, I honestly don't think the kiss cam is remotely important enough to be discussed when other factors should be in question on this issue," she said.
And student Melissa Viola suggested the cameraman could get permission ahead of time to avoid controversy.
"I feel all the camera man has to do is ask the people permission if they want to be on the kids cam or not. It's not that hard," she told The Fix. "I understand where people are coming from but it seems like a really easy solution."
Some students felt the anger was directed at the wrong subject, such as student Chelsea Richardson.
"The kiss cam does not send the wrong message," she said. "The people forcing those next to them to kiss them when they do not want to do … the kiss cam has always been something cute and exciting for those selected and willing to participate. It would be a shame to watch it go because of disrespectful, abusive people."
Similarly, student Shannon von Dyke pointed out that "two weeks ago the cam lingered on a girl after she had signaled that she did not want to be kissed until she gave in. That type of pressure should not be put on people."
"If someone indicates that they do not want to participate, they should not be pressured," von Dyke said.
Like The College Fix on Facebook / Follow us on Twitter
IMAGE: YouTube screenshot