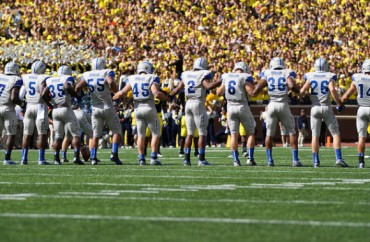 The Air Force Academy said it will look into complaints about its football team's prayers before and after games due a complaint lodged by the Military Religious Freedom Foundation (MRFF).
Mikey Weinstein, founder and president of the MRFF, said "Air Force players participating in public prayer 'is a scandalous outrage,'" NBC San Diego reports:
"It's a disgrace. It's a putrid example of fundamentalist Christian supremacy, triumphalism and exceptionalism and it has to stop," Weinstein said. "Those individuals that are dressed in the Air Force uniform; that's their uniform of the day. They're members of the military and they are under different rules than the civilian counterparts they're playing on the field." …
The situation found its way to the Military Religious Freedom Foundation this season because a growing number of people associated with the Air Force football program claims these team prayers are not optional. Weinstein said players join in the team prayers, even if they are not comfortable doing so, for fear of potential punishment should they decline.
Weinstein claimed to have gathered 144 people "terrified to go forward" with a complaint "for fear of facing reprisal or retribution" – players, their girlfriends and families, and "staff and faculty":
Weinstein said he does not know who would be in charge of the alleged forced participation in prayer, but the issue has now gained enough traction to capture the attention of the Air Force Academy. This week, the Air Force announced plans to formally look into the situation.
The Military Religious Freedom Foundation says images like these could be used in ISIS propaganda… https://t.co/gGdI745sOZ

— FOX & Friends (@foxandfriends) December 8, 2015
Weinstein bases his objections on the U.S. Supreme Court case Parker v. Levy.
However, the First Amendment Center notes that that 1974 case pertains to actual, legitimate military readiness. It's hard to see what a football game has to do with that.
The Defense Department's Directive 1300.17 "Accommodation of Religious Practices Within the Military Services" reads thusly:
A basic principle of our nation is free exercise of religion. The Department of Defense places a high value on the rights of members of the Armed Forces to observe the tenets of their perspective religions. It is DOD policy that requests for accommodation of religious practices should be approved by commanders when accommodation will not have an adverse impact on military readiness, unit cohesion, standards, or discipline.
Certainly, if more than "144 strong" at, and associated with, the Academy have been forcibly subjected to Christian sectarian prayer, that would be a First Amendment violation.
But if players are joining the prayers of their own free will, the DOD's directive appears to cover their actions rather thoroughly.
Weinstein, not known for his lack of hyperbole, adds that those allowing the prayers "need to be visibly and aggressively punished."
"Visibly and aggressively"? What does he want — a public flogging?
Like The College Fix on Facebook / Follow us on Twitter
IMAGE: MGoBlog/Flickr