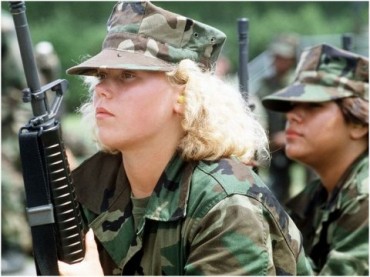 Only eight of the original total of nineteen women had remained in the Army Ranger School's first gender-integrated class leading up to the end of the first round of training … and now they're out, too.
These eight, however, along with 101 men, are eligible to retry the so-called "Darby phase" starting May 14.
About 15 percent of soldiers repeat the first phase, called Darby phase, however, about 75 percent of those who make it through the first week of the program will eventually pass the Darby phase and move onto the mountains, according to the Airborne and Ranger Training Brigade's website.

About 37 percent of all students recycle at least one phase of Ranger training, the site said.

Only 115 soldiers of the 400 who attempted the training will be moving onto the mountain phase of the training beginning on Saturday.

Nineteen women and 381 men began the first integrated Ranger Course in April. Three women and 78 men washed out after the first day's physical assessment consisting of 49 pushups, 59 situps, a 5-mile run in under 40 minutes and 6 chin-ups.

Following that, soldiers must complete a land navigation test, a swim test and a 12-mile foot march with a 35-pound rucksack in under three hours. Eight women and a 119 men failed to complete this portion of the course.
Wait a second — I thought that traditional concepts of gender are merely "constructs" of the heteronormative Caucasian patriarchy. How can it be that all nineteen females failed to move on … let alone that only nineteen actually signed up in the first place?
Like The College Fix on Facebook / Follow us on Twitter
IMAGE: Expert Infantry/Flickr