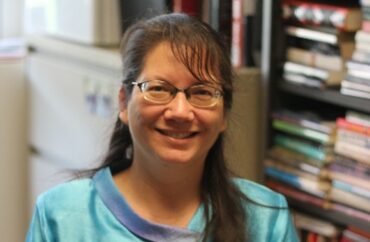 More than a dozen faculty at her university alleged fraud
Ethnic Studies Professor Andrea Smith will resign from a public California university following some 15 years of controversy and disputes of her alleged Cherokee heritage.
Smith (pictured) is resigning from the University of California Riverside effective next August in the aftermath of more than a dozen faculty complaints, according to a "Separation and Release" document shared by Jacqueline Keeler, a journalist, author, and Navajo nation citizen who works to expose fraudulent claims of Native American ancestry.
UC Riverside "has released a Pretendian professor," Keeler wrote. "Andrea Smith outed in the @nytimes in 2021 for being a PRETENDIAN"
Boom. So the first university, UC Riverside, has released a Pretendian professor. Andrea Smith outed in the @nytimes in 2021 for being a PRETENDIAN. #Pretendian #Academia #Justice See this Instagram post by @jfkeeler https://t.co/eJR0wNI6W9

— Jacqueline Keeler (@jfkeeler) August 17, 2023
"On or about August 23, 2022, the University received a complaint signed by 13 UC Riverside faculty members alleging that Professor Smith has made fraudulent claims to Native American identity in violation of the Faculty Code of Conduct provisions concerning academic integrity," according to the document shared by Keeler and obtained by Inside Higher Ed. 
UC Riverside "engaged Professor Smith in discussions on informal resolution," but did not launch a "formal university investigation" or make findings on the allegations, according to the document.
Though Smith denied the allegations, she agreed to resign in a deal signed by Smith last December and UC Riverside Chancellor Kim Wilcox in January, Inside Higher Ed reported last week. Smith will be eligible for retirement and an emeritus title, though she will not be listed by that tile in the university directory website.
In 2015, Annita Lucchesi, a graduate student at Washington State University, went after Smith on Tumblr with a now-viral post titled "Andrea Smith is not Cherokee," The College Fix reported that year. The post appears to have been removed.
The New York Times reported on ongoing allegations against Smith in a feature story in May 2021.
In 2015, Black and Latina Hawaiian historian and Professor J. Kehaulani Kauanui and 11 other Native American female scholars published an open letter in Indian Country Today "asking [Smith] and others like her to account for their identity claims," The New York Times reported.  Richard Allen, a Cherokee Nation policy analyst, tried to "contest Andrea Smith's identity claims in 2012."
"In 2012, before a lecture by Smith at California State Polytechnic University, Pomona, Allen emailed the organizers and explained that "Andrea Smith's claim of being Cherokee is fraudulent and [it] is likely that she is not American Indian at all," the paper reported.
"Although the United States has a long history of white people 'playing Indian'… the 1990s saw the beginning of what would eventually be significant pushback by Native Americans against so-called Pretendians or Pretend Indians, including the successful passage of a national law prohibiting non-Native people from marketing their art as 'Indian,'" according to the NY Times.
MORE: Three U. of Kansas professors accused of falsely claiming Native American ancestry
IMAGE: University of California, Riverside
Like The College Fix on Facebook / Follow us on Twitter