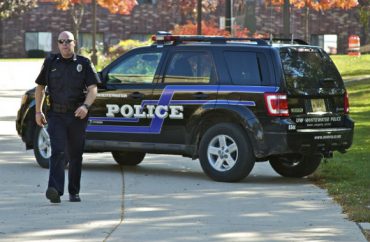 A 17-year-old Sylacauga High School (Alabama) student is in the hospital with a fractured skull as a result of a possible racially motivated attack.
Brian Ogle was jumped by "one or more black teens" in a parking lot following the homecoming football game Friday night, according to Sylacauga Police Chief Kelley Johnson.
A social media argument about Black Lives Matter — in which Ogle expressed support for the police — appears to be the catalyst for the assault, reports WBRC.com.
Over the weekend, Johnson says they interviewed roughly 20 people, including witnesses, family members and persons of interest.

[Ogle's mother Brandi] Allen said her son's skull is broken in three places.

"Apparently he was hit with something that is possibly to be the butt of the pistol. He has stitches and he has real bad bruising on his shoulder. There's a lot of wounds on the back of his head from being hit as well," Allen described.

MORE: Student who criticized college race protests finishes school at home due to continued threats

Police haven't determined a clear motive, but Johnson said it appeared to be racially motivated and social media could be a factor.

Allen said things started at the high school and then made its way to Facebook. She said her son received threatening messages.

"My son took it to the principal at Sylacauga High School and I commend him for that. He showed her the threats that were being made to him, but she told him there was nothing she could do. I'm appalled," Allen explained.
Mom of Sylacauga HS student beaten in possible racially motivated assault is speaking out. Hear more from her at 9 and 10 on @WBRCnews . pic.twitter.com/FFmTUkf7Un

— Jamiese Price (@ThePriceReport) October 3, 2016
The school had advised parents and students "to take credible threats to the police," but Allen takes exception to that: "They [school officials] have a job to do it at school and they failed to do it," she said.
She added, "I want to see them [the assailants] in jail, this most certainly is a race issue, it's a hate crime."
MORE: Campus #BlackLivesMatter tears down #BlueLivesMatter display same day cops shot nearby
MORE: Trump chalking by College Republicans is a 'hate crime,' black students claim
Like The College Fix on Facebook / Follow us on Twitter
IMAGE: UWW ResNET/Flickr
Like The College Fix on Facebook / Follow us on Twitter