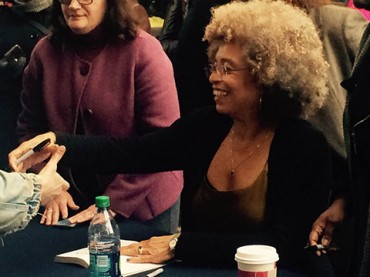 UPDATED
FLINT, Mich. – A former Communist Party USA candidate whose weapons were used to kidnap a judge in 1970 told a packed university crowd to "stand up for access to good, organic non-GMO food," among other progressive causes.
Angela Davis, who was once associated with the Black Panthers and acquitted of conspiracy in the kidnapping, received a standing ovation Friday from the capacity crowd of 400 at the University of Michigan-Flint, with another 300 people viewing from another auditorium, said Pam Zemore, community relations specialist at the school.
Davis encouraged the audience to recognize the "interconnected nature of justice struggles" throughout the world."
"If we want to put an end to anti-black, anti-Chicano, and anti-Latino racism we will also have to speak out against economic exploitation, against war, against the destruction of the environment, against anti-Muslim racism, against anti-Semitism, against gender bias, against homophobia, and against ableism," said Davis, whose speaking fees range from $10,000 to $20,000.
A former UCLA professor, Davis was recently honored in the school's "Optimist" marketing campaign, as The College Fix has reported. The professor was fired in 1969 by the UC board of regents for her Communist Party USA membership, and after that rationale was struck down in court, the board fired her in 1970 for using "inflammatory language" in speeches.
She returned to UCLA to teach last spring for the first time in 45 years. Davis is currently a distinguished professor emerita in the "history of consciousness and feminist studies" at UC-Santa Cruz.
Beyond food that's not tainted by genetically modified organisms, Davis asked the enthusiastic UM-Flint crowd to demand "free education" and "free health care," and to "recognize the degree in which this contemporary racism" in police forces "is inflected with the ideology of the so-called War against Terror."
Seeing that "makes us understand the really important connections between anti-Arab, anti-Muslim racism, anti-black racism, anti-Latino racism," Davis said. "If we do not understand these connections we will not be effective in our struggles to eradicate racism."
Davis described Assata Shakur, who was sentenced to life imprisonment in 1977 for her role in the killing of a New Jersey state trooper, as a "major hero of the black liberation movement."
Shakur has been "studying, teaching, working, and being very constructive and productive" since her escape from prison to Cuba more than 30 years ago, Davis said.
"This makes you think about what is this thing called terrorism? What is it they are really trying to capture?" Davis asked rhetorically, answering that "we should recognize that this is a retroactive criminalization of the black liberation movement."
President Barack Obama's recent overtures toward Cuba have led New Jersey authorities to hope Shakur, whose legal name is Joanne Chesimard, could be captured and returned to finish her prison sentence, NJ.com reported in December. She was the first woman to be placed on the FBI's most wanted terrorist list, in 2013.
Davis referred to the Equal Justice Initiative's new report on the history of lynching in America, which she said is important because "it urges us to see lynching as an act of terror and to think about the domestic terrorism upon which this country was created.
"There has been an unbroken line of racist killings, vigilante killings, police killings since the era of slavery," she said, arguing that recent "mobilizations" are simply a response to these issues.
Get involved with "communities that are struggling," Davis encouraged the audience. "We cannot pivot to the center, we cannot be moderate."
UM-Flint student Elena Sobrino told The Fix after the lecture that Davis "made a really good impression on me as somebody who I wasn't really directly familiar" with her.
"I love when they bring controversial figures," said another UM-Flint student, Thomas Mann, of the school's invited speakers. "They shouldn't bring anyone but controversial figures as long as they're controversial figures of the Left."
"When you start thinking about race and injustice as far as the proportions of people of color in our prison-industrial system or our corrections system, I think those things have been prevalent the past couple of decades," UM-Dearborn student Keith McCallum told The Fix. "The fact that she's here and speaking on it … hits home."
CORRECTION: Angela Davis did not graduate from UCLA. The article has been amended to reflect this.
College Fix reporter Mariana Barillas is a student at the University of Michigan-Flint.
Like The College Fix on Facebook / Follow us on Twitter
IMAGES: Mariana Barillas, New Jersey Department of Corrections/Wikimedia Commons