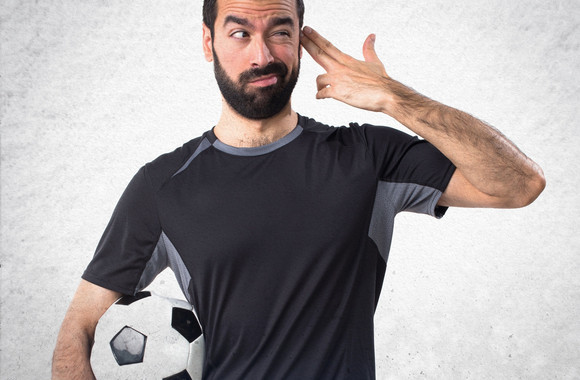 Youths here need 'love for the game itself,' says one European expert
What is wrong with U.S. Soccer? That question has been gnawing at American soccer institutions at every level since the American men's team failed to qualify for the last World Cup, held in Russia in 2018.
The international soccer tournament is held every four years and watched by billions. In 2018, FIFA, the organization that puts on the event, claimed a worldwide audience of 3.57 billion viewers. Those numbers were almost twice that year's Olympics audience.
Even if 3-plus billion is an outsized estimate, it is true that something close to a majority of the world's population is in a soccer frenzy. Fans from every country hope their team will bring home the coveted World Cup. And Americans didn't even have a men's team to root for.
This was puzzling because in almost every important metric, including athletic ones, America is no slouch.
How was it that the United States was not able to produce a squad of 23 players who could make it through the qualifying matches and represent their nation in the world's most important soccer contest?
Is 'pay to play' to blame?
Stakeholders are in basic agreement that there needs to be change in U.S. Soccer if the nation is to be more competitive in the World Cup going forward. But what change?
Most critics have settled on a criticism of American soccer called "pay to play." This is the system in America where young players, both male and female, must literally "pay" to "play" on competitive club teams.
Alex Morgan, a star member of the U.S. Soccer women's team, has stressed the negative side effects "pay to play" in press conferences. She claimed that the USA is missing so many potential soccer athletes because the costs are too high to play.
America's Major League Soccer Commissioner Don Garber disagrees, reported the Guardian. The commissioner claimed that young male players are rising up and playing professionally at a young age because they have the skill set.
Garber attributed this rise in talent to the money that MLS is investing in the MLS club teams.
'Pay to play' for parents
Although an infusion of MLS funds may be a contributing factor in improving the men's national team, it does not really address the fact that U.S. soccer clubs cost a lot of money.
A study with the improbable sponsor of TD Ameritrade looked at just how much money parents are spending on soccer.
The online brokerage firm explained that it was "interested in the trend of the rise of elite youth sports and America's retirement crisis." Accordingly, "This study looks at the commitment of parents to their children's athletic dreams and the financial costs and potential long-term financial implications of that commitment."
What the study found was that soccer moms and dads spend an average of a couple hundred dollars a month, with some spending more than a thousand dollars every month, on their kids' soccer club sports.
Why do they spend that much money? This is where the vague ring of gambling in the phrase "pay to play" collides with soaring college tuitions.
Ameritrade found over two-thirds of parents hope their children will receive athletic scholarships to play soccer in college. In actuality, Ameritrade reports that only a fourth will receive some sort of athletic scholarship and perhaps two percent will turn pro.
And yes, Ameritrade did find that soccer puts significant financial pressures on parents, lowering savings, delaying retirement, squeezing household budgets, and depleting funds that would have been used for their kids' college.
Europe vs. America
Frank Remmel is a retired German professional soccer player turned youth coach in America. He told The College Fix in a phone conversation in late June that in Europe there are academies where children learn both academics and soccer.
Europeans do pay a fee, but it goes to cover both academics and soccer.
In America there are not academies in that sense but clubs. In these clubs, a player will typically pay anywhere from $2,500 to $5,000, the Guardian reported.
Why does it cost so much and why are there so many clubs? German coach Eddie Löwen said that in America soccer is too focused on the bottom line. Remmel agreed, to an extent. He said that clubs and the MLS are realizing their mistake and offering financial aid and scholarships.
However Remmel said that there is another problem facing the U.S. youth soccer system: America simply doesn't have a soccer culture.
Culture of sports
Remmel attributes America's lack of soccer culture to two facts. First soccer is not the favorite pastime in America. Many athletes would rather play football, basketball, or baseball than soccer. In Europe, it's the complete opposite.
"Everyone plays soccer because anyone can," Remmel said. "It is not like basketball where you typically need to be tall to play."
Many children in Europe are playing pickup games all day long. This is not the case in America where soccer is usually reserved for practice in structured settings.
This leads into the second point. Soccer in the America is all business and in its focus on physical training may be missing something important.
Albert Puig, a former Youth Technical Director for FC Barcelona and now assistant coach of New York City FC, agrees with Remmel's assessment.
"The key [to teaching soccer] is in the assimilation of concepts and game habits with and without the ball and not in the repetition of technical actions," Puig wrote in a column for Soccer Today, "In the USA, a lot of emphases is placed on training soccer through repetition and repetition of movements. Children in the USA have a love for the ball when they should feel love for the game itself."
How about women's soccer?
Any criticism of U.S. Soccer is complicated by the fact that the women's team is a force to be reckoned with in world soccer. The women's team hasn't just qualified for multiple World Cups, it has won them and is a favorite of this year's Olympics, coming next month.
If the "pay to play" attitude is hurting U.S. youth soccer, as Alex Morgan charged, why hasn't the women's national team suffered serious setbacks?
Remmel said that U.S. Soccer has given women an opportunity to excel in soccer earlier than other countries. The team progressed rapidly and became the powerhouse it is today.
However, other countries are catching up. If "pay to play" is a serious problem, then the women's team could eventually run into serious troubles as well.
Remmel does not believe it will come to that. "The tide is changing," he said.
More soccer clubs are offering financial aid. Also, a Gallup poll in 2017 suggested that a soccer culture is finally starting to take root.
One test of this progress will be the men's national team's qualifying matches for the 2022 World Cup.
MORE: U. Pennsylvania men's soccer team undergoes anti-racism training
IMAGE: Luis_Molinero.shutterstock
Like The College Fix on Facebook / Follow us on Twitter