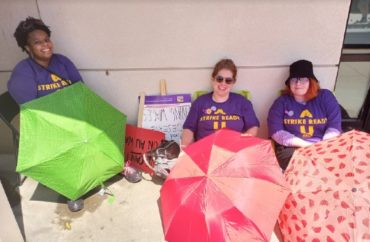 WASHINGTON, D.C. – Members of the Academic Affairs Staff Union picketed again on Tuesday, the second day of their planned weeklong protest against the university.
Union members gathered at the Katzen Arts Center on campus and lined the walls with handmade signs and passed out pamphlets to passersby about their cause.
The protestors also took to chalking the asphalt. "Hey AU, accept this challenge, a fair contract for staff," one message stated. The chalking was a play on words as American University has a branding campaign called "challenge accepted".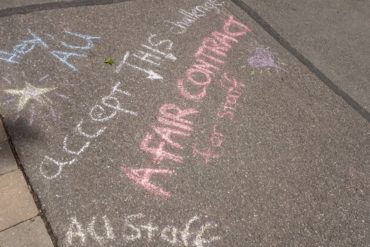 The union rejected offers of a four percent raise and increased contributions to health insurance premiums for some lower-paid workers, according to a letter from university officials.
Sam Sadow, a visual arts curator and union member, told The College Fix on Tuesday that the union is "striking for fair pay, equitable pay structure and affordable health care for all AU staff."
He said the goal is "settling a contract with the AU administration that enshrines those basic principles, fair pay, equitable pay structure and affordable health care."
This week students are moving into dorms, but despite the staff shortages due to the strike, move-in seemed to be in full swing. The Fix observed vans loading in student belongings and a planned freshman orientation seemed to be underway.
The Fix asked the university for comment on how the strike could affect students moving in as well as preparations for classes next week and for more information about its stance on the negotiations.
"All offices prepared continuity plans to ensure services continue. Students were sent a message on Friday with additional information for those offices in case they could not reach their normal points of contact," Sandra Rodriguez, a spokeswoman, told The Fix via email on Tuesday. "Additionally, AU Central is our one-stop resource for student services, and they are prepared to help address inquiries and student needs. This includes phone, email, and online chat options for reaching services."
She directed The Fix to the letter from university officials which described the raises and other benefits offered to the union.
"Despite this progress, the union rejected our best and final offer and intends to strike during this important week for our students and families," the officials wrote further. "A principle for the university is to fairly address specific concerns of unit members and resolve issues in an equitable manner for staff both inside and outside the bargaining unit."
"While it is unfortunate that the union chose to strike, American University is supporting our students as they return to campus, move-in to our residence halls, and begin classes," the administrators wrote.
"American University respects the right of employees to organize to form a union and to engage in related protected activity in accordance with applicable law," Provost Peter Starr, Vice Provost Seth Grossman and Fanta Aw, campus life vice president, wrote in the message. "We look forward to welcoming our students and addressing any potential impacts as this process moves forward."
MORE: Union frets about .07 percent COVID test positivity rate
IMAGES: The College Fix
Like The College Fix on Facebook / Follow us on Twitter