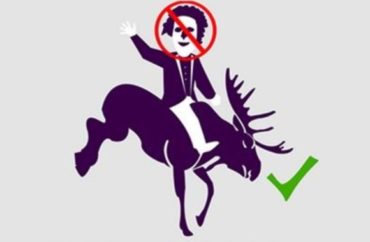 They want to grant president 'more authority and control' than she – or anyone – should have
Protesting the racism and discrimination they claim still courses through the halls of Amherst College, student activists under the banner Amherst Uprising forgot to do one thing: reserve a Twitter handle.
As a result, as it kicked off its protest of "All Lives Matter" and "Free Speech" signs that popped up in opposition to the national race activism of the past month, Amherst Uprising was conflated with a now-suspended parody Twitter account, @AmherstUprising.
The activists also failed to convince President Carolyn "Biddy" Martin to answer point-by-point their list of demands, which included the punishment and re-education of the unknown "All Lives Matters" and "Free Speech" poster activists.
A new round of protests and official action may grip the campus today, when the results are released of a Tuesday student poll on whether to remove the unofficial "racist" Amherst mascot, Lord Jeffery.
PLEASE CONTINUE TO REPORT THE FAKE TWITTER ACCOUNT. THEY ARE GAINING MORE FOLLOWERS TO FURTHER MISREPRESENT THIS MOVEMENT. REPORT THEM UNTIL TWITTER RESPONDS ACCORDINGLY.

Posted by Amherst Uprising on Sunday, November 15, 2015
Apologies demanded for every aggrieved group
Leading to Amherst Uprising's formation, hundreds of students gathered in the diverse liberal arts college's library Nov. 12 to protest racial injustice at Amherst and beyond.
Students originally organized the event on Facebook as a one-hour sit-in for Amherst to "stand in solidarity with the students in Mizzou [University of Missouri], Yale, South Africa and every other institution across the world where black people are marginalized and threatened."
The event spilled late into the evening, with additional students pouring in as daylight receded and some opting to spend the night. Students, faculty, and staff shared their experience with racism inside and outside the confines of Amherst's campus.
That afternoon, in its first public statement, Amherst Uprising issued a list of 11 demands to be enacted by Wednesday of this week.
They asked President Martin and Cullen Murphy, chairman of board of trustees, to "issue a statement of apology to … victims of several injustices," from "our institutional legacy of white supremacy" and "anti-Latinx racism" (a gender-neutral term for "Latino") to "cis-sexism" and "mental health stigma."
The demands also ask the administration to condemn last year's "All Lives Matter" pro-life posters and more recent signs that popped up in the dining hall, reading "In memoriam of the true victim of the Missouri protests: free speech." Both were "racially insensitive," the statement reads.
Organizers urged Martin to denounce both posters, warn their instigators they may be forced to go through "the Disciplinary Process," and mandate that they "attend extensive training for racial and cultural competency."
Martin should apologize to community members of color and their allies for not providing "a safe space for them to thrive," and should condemn "the inherent racist nature" of Lord Jeff while leading the "encouraged removal" of Lord Jeff from Amherst apparel and facilities, the statement read.
The British general has been linked with giving smallpox-infected blankets to Native Americans as an early form of biological warfare, but Amherst itself says "there is no evidence" they were distributed at his command. Amherst faculty voted unanimously last week to cut ties with the 18th century military commander. (Students previously have suggested the mascot be a moose.)
Amherst Uprising hinted that its response could get physical if ignored. "We will organize and respond in a radical manner, through civil disobedience," if its demands weren't "completed" by Wednesday, the statement read.
"If there is a continued failure to meet our demands, it will result in an escalation of our response," the group said. (Amherst Uprising reiterated the "escalation" promise if Amherst chose to "threaten the jobs" of supportive faculty, staff and administrators.)
Amherst Uprising later released a statement clarifying that the demands were made "in haste" and were never meant to be "final and non-negotiable."
Though the group launched a full website at AmherstUprising.org on Saturday, it warned supporters earlier in the day to not follow the @AmherstUprising Twitter profile.
Not yet known to be a parody account, the @AmherstUprising account drew wide attention Saturday. It claimed that the college football team refused to let the student activists walk onto the field with players, and it asked "white allies" to get between "police & marginalized ppl" on the way to the stadium. Critics of the activists seized on the alleged rebuke by the football team.
Amherst Uprising's authentic Twitter profile is @UprisingAmherst.
'Censorship and silencing are not the answer'
President Martin responded Sunday by refusing to "meet each demand as specified" but acknowledging the "spirit" of the protesters' demands.
What the protesters demanded would give Martin "more authority and control than a president has or should have," and require her to violate "the forms of distributed authority and shared governance that are integral to our educational institutions," Martin wrote.
She called it a "serious loss" for Amherst when faculty and staff of color leave the school "because they do not have faith that they can thrive here," saying that phenomenon "requires greater attention to the conditions and cultures we need to change or to create."
Yet on the topic of free speech, Martin said: "Censorship and silencing are not the answer" to racial grievances.
"It takes time, attention, and serious discussion to sort out and make clear how we protect free speech while also establishing norms within our communities that encourage respect and make us responsible for what we do with our freedom," she wrote.
RELATED: Some at Amherst College demand 'racist' Lord Jeff mascot be changed – to a moose
Like The College Fix on Facebook / Follow us on Twitter
IMAGE: Pirátská strana/Flickr