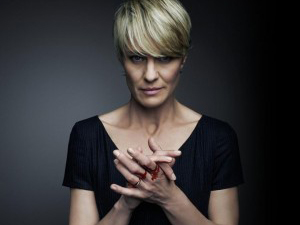 That's the shocking recommendation from this University of Chicago alumna who sounds more like Claire Underwood than a decent human being who knows right from wrong.
Writing in the Chicago Maroon, Michele Beaulieux cites some estimates from a higher-ed administrators group:
Student Affairs Administrators in Higher Education Vice President Nancy Chi Cantalupo, who participated in an Institute of Politics panel on campus last quarter, found more than 50 victim cases alleging Title IX violations that were decided unfavorably toward schools and therefore were likely to cost them money. Her research showed that the top two publicly disclosed settlements in litigated Title IX cases cost the schools $2.8 million and $850,000.

Accused students, in contrast, are more likely to file lawsuits, but they are less likely to win, and even less likely to win big. Cantalupo found only three cases where the court decided that the school's disciplinary procedures in a sexual violence case violated due process for the accused assailants. In only one of those cases was the student awarded any money: $26,500.
Beaulieux correctly notes that this imbalance is a direct result the Department of Education's Office for Civil Rights, which all but told schools in 2011 to believe any and all rape accusations or risk losing their federal funding:
Schools are now facing more Title IX complaints than alleged perpetrator and victim lawsuits combined, and it is those Title IX complaints that account for the greater cost of victims' cases in the second [liability-insurance provider United Educators] study. The courts also have consistently shown that violating Title IX is more damaging than violating due process rights. When schools understand how courts will rule, their overall risk assessments may reflect that fact, too.
Lawsuits by accused students are still relatively new, and even though they are proliferating, not many have gone all the way through the legal process, to my knowledge. One recently concluded case – heard by a judge strongly endorsed by leading believer-the-survivor activist Sen. Kirsten Gillibrand – ended badly for an accused student at Columbia.
Perhaps a big judgment in favor of an accused student – the Occidental College or Columbia University "Mattress Girl" cases seem like good candidates – will make schools reconsider.
But Beaulieux's amoral analysis is probably right: It's cheaper to do the wrong thing when the feds incentivize it.
Like The College Fix on Facebook / Follow us on Twitter
IMAGE: Netflix