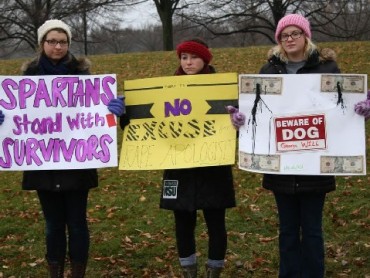 EAST LANSING – Conservative columnist George Will faced major opposition Saturday as a commencement speaker at Michigan State University, where he was met with a large protest outside campus – and some grads and family members who turned their backs to him during the ceremony inside Breslin Center.
The public university also held an "alternative ceremony" for those too upset to hear the Pulitzer Prize-winning journalist speak, a Saturday event in which a total of five grads took part.
Will, who once taught in the James Madison Program at Michigan State, is under fire by some college students and feminists for a June column that
suggested universities have made "victimhood a coveted status that confers privilege," questioned stats that one in five college women have been sexually assaulted or raped, and voiced concern that due process rights for the accused have been eroded.
As a result, Will's speech at the all-women's Scripps College was cancelled earlier this year, and he faced another raucous protest when he gave an address in October at Miami University in Ohio.
Will did not bring up the controversy surrounding him during his commencement address, which was met with wide applause. Instead, he spoke on the role of government and the current divisive political climate between liberals and conservatives.
But during his speech, multiple students and even some family members stood with their backs toward Will. Many students also donned "Title IX" and "It's On You MSU" stickers on graduation caps in protest. Meanwhile, protesters outside the event held signs stating "rape is not a pawn to be politicized" and "rape is not a privilege," among other phrases.
What's more, a large billboard on a flatbed truck seen driving around East Lansing on Saturday read: "Michigan State University: Under investigation for rape on campus. Honors rape denier George Will. MSU is failing its students." The billboard included a photo of Will.
At Michigan State's "alternative ceremony," one speaker was professor Ruben Parra-Cardona, associate director of MSU's Research Consortium on Gender-Based Violence. Ruben, in a speech, criticized Will for seeing sexual violence ideologically. The scholar also checked his own privilege.
"As a person holding many layers of privilege—because I'm an academic, I'm a male, I'm heterosexual—to name a few of those privileges. As a holder of those privileges, today, I want to apologize to you," Parra-Cardona said in his speech as he held back tears. "I want to apologize for people not apologizing to you."
"Overpowering another human being should not—cannot—be approached exclusively from a position of 'ideological debate.'"
The protest against Will's appearance referred to him as a "rape apologist" and called his invitation to speak "insensitive" on the event's Facebook page. The protest's goal, according to the page, was to "remind victims of campus sexual assault that MSU's student body doesn't hold the backwards and hurtful values that George Will does."
"He's a rape apologist in that his article, the way that it's written, the language used is not acceptable or understanding of the rape experience that students have gone through on this campus," Trish Abalo, a junior interdisciplinary studies major, told The College Fix at the protest. "The goal of this protest from my understanding that we are here to support survivors and show what Michigan State really thinks."
Protest organizer and MSU alumni Zoe Jackson called Will's invitation and granting of an honorary degree "pretty disturbing."
"We feel that putting him in this privileged position continues to promote his beliefs that sexual assault survivors are somehow privileged or insignificant or making things up," Jackson told The Fix. "We're here today to support survivors."
And Danielle Schwartz, a graduate student in MSU's English department, said in an interview that Will should not have been selected because "there are guidelines for hiring a speaker [that] specifically state that they should share our values and that they shouldn't deflect from the graduates."
Liberal filmmaker Michael Moore also gave a graduation speech on Saturday. There was no protest against him.
Biology Professor Gerald Urquhart, in an interview, criticized Will's graduation speech.
"To come to campus to give a speech that is a one-sided presentation that students do not have a choice whether or not to attend I think is the wrong way to bring somebody who says things such as he did about rape," Urquhart said.
But administrators defended their decision, citing Will's "long and distinguished journalistic career."
The university is one of dozens under a Title IX investigation by the feds on its handling of sexual assault on campus. Will could not be reached by The College Fix for comment despite numerous attempts.
College Fix reporter Derek Draplin is a student at the University of Michigan. 
Like The College Fix on Facebook / Follow us on Twitter
IMAGES: Derek Draplin/The College Fix