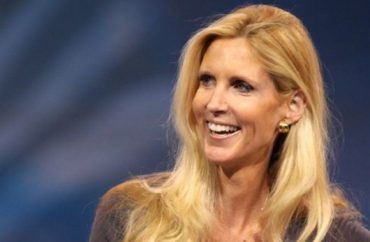 University won't intervene if thugs attack us
Anti-immigrant writer and provocateur Ann Coulter won't be speaking at the University of California-Berkeley tomorrow because she won't have the support of the organizations that tried to bring her to campus.
She had threatened to show up on campus Thursday, rejecting UC-Berkeley's offer for her to speak May 2 during "dead week" when many students aren't on campus.
The Berkeley College Republicans and Young America's Foundation, which filed suit Monday to force the university to honor the April 27 date for Coulter's speech, ended up pulling their support for her appearance out of safety concerns.
In a series of tweets Wednesday, Coulter said free speech had been "crushed by thugs" and called the canceled speech "a dark day for free speech in America." She also thanked liberal pundits including Bill Maher for "opposing Berkeley's censorship."
I'm so sorry Berkeley canceled my speech. I'm so sorry YAF acquiesced in the cancelation. And I'm so sorry for free speech crushed by thugs.

— Ann Coulter (@AnnCoulter) April 26, 2017
If we had continued to fight we would have won.

— Ann Coulter (@AnnCoulter) April 26, 2017
It's sickening when a radical thuggish institution like Berkeley can so easily snuff out the cherished American right to free speech.

— Ann Coulter (@AnnCoulter) April 26, 2017
YAF said it was pulling out in a statement yesterday, citing the safety of its staff and students, and blaming the university's lax attitude toward violent protest:
[Originally w]e assumed UC Berkeley would take all steps necessary to ensure the safety of students attending the educational event.

In the meantime we discovered that the University of California Police Department at Berkeley has an official "stand-down" policy for any situation that develops on campus as long as the situation doesn't involve the imminent loss of life, allowing the leftist thugs who have terrorized Berkeley's campus to do so without consequence. …

Berkeley made it impossible to hold a lecture due to the lack of assurances for protections from foreseeable violence from unrestrained leftist agitators.

Berkeley should be ashamed for creating this hostile atmosphere.
It said its lawsuit against the university was continuing, though it's not clear what relief it could obtain now that Coulter has withdrawn her plan to show up Thursday.
Lawyer Harmeet Dhillon, who is representing YAF and the CRs, confirmed to The College Fix the lawsuit was continuing and said more would be explained in a press conference this afternoon in Berkeley.
Dhillon had said in a Monday press conference that Democratic Gov. Jerry Brown should call out the National Guard to protect Coulter's speech if the campus and city of Berkeley wouldn't.
Plz retweet: @MelanieWoodrow will be Facebook live streaming today's 1:30pm presser with @pnjaban & @BerkeleyCRs at: https://t.co/XGd2b0DbF6

— Matt Shupe (@MattShupePR) April 26, 2017
Like The College Fix on Facebook / Follow us on Twitter