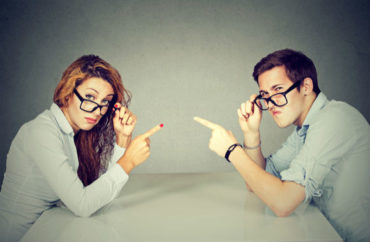 UPDATED
Looks beyond California courts
Not even a private college can get out of its obligation to "assess" the credibility of a student accuser before finding the accused student responsible, a California appeals court ruled last week.
"Jane Roe" should have been required to answer questions posed by "John Doe" or the sexual-misconduct review committee at Claremont McKenna College, according to the three-judge panel.
The ruling is notable because the judges cited a precedent from the 6th U.S. Circuit Court of Appeals, which is not binding on California state courts, that concerned a public university, unlike CMC.
The judges seemed to lean toward the accused student in the CMC hearing during oral argument last month, before ordering his suspension to be overturned last week.
'Excessive sex,' not sexual assault
According to the judges' summary of the CMC case, Doe and Roe had a sexual encounter that started with condoms but ended unprotected because of Doe's physical inability to continue with protected sex. (She attended Scripps College, which is part of the Claremont Consortium along with CMC.)
Roe claimed she withdrew her consent for intercourse when it became unprotected, and the CMC investigation and trial revolved around that claim.
Doe and Roe continued to joke about their frustrating sexual encounter for three months after it happened, however.
MORE: California governor vetoes anti-due process bill
His friends didn't believe Doe when he said their sex was so intense that Roe had to go to the hospital, so he asked Roe to send him the report she had filled out at the campus medical center, and she agreed.
She had written that her injury was caused by "excessive sex," which Doe and Roe agreed was "hilarious." He called himself the "Bone Hammer" in front of Roe, who also knew he was using the crude nickname in front of mutual friends, but she did not seem bothered by it. (Roe denied at the medical center that she was assaulted, and an "urgent care" doctor later wrote that her exam was "unremarkable.")
Roe seemed to change her mind after Doe forwarded her a crude Valentine's Day card that his friends had sent with her name on it. After Doe declined to talk to Roe about the card at the time she requested, she reported to Scripps that she was sexually assaulted.
Because CMC violated 'core principles,' judges ignore other issues
Most of Doe's legal claims were not considered by the appeals court. For example, he had claimed that the university's failure to show him detailed charges in a timely manner – for a sexual encounter months earlier – led him to testify in a vague manner. Officials held his lack of detail against him.
The primary issue in the Title IX adjudication was credibility in a he-said, she-said situation. But the ruling by Justice Helen Bendix, joined by her two colleagues, said CMC had violated the "core principles" required in a case where an accused student faces a "severe penalty" on the basis of a credibility determination.
The university uses a "single investigator" model, which means one person interviews witnesses and writes a report and recommendation that is reviewed by a committee.
Cal. appeals court: "core principles" in TIX adjudications where credibility is at issue–some form of a hearing, some type of x-exam. Would seem to wholly rule out the "single-investigator" model praised by the Obama adm. pic.twitter.com/f6z7WdnMrn

— KC Johnson (@kcjohnson9) August 8, 2018
MORE: Ohio bill requires colleges to improve due process in Title IX cases
Though the private CMC "generally" does not have to follow the "constitutional requirements of procedural due process," Bendix wrote in a footnote citing another ruling, "due process jurisprudence nevertheless may be 'instructive' in cases determining fair hearing standards for student disciplinary proceedings at private schools."
Not satisfied with California case law alone, Bendix looked at how the 6th Circuit judged a similar case.
Due process came into play because Roe did not testify against Doe at the CMC trial, merely writing a testimony of her side.
Under those circumstances, "[a]llowing [the accused student] to confront and question [the complaining witness] through the panel would have undoubtedly aided the truth-seeking process and reduced the likelihood of an erroneous deprivation," Bendix wrote, quoting the 6th Circuit.
Not enough for the investigator to judge credibility
CMC had argued that this case did not actually turn on credibility because the review committee relied on several "facts" that "corroborated" Roe's version of events more than Doe's.
But Bendix said that evidence did not "by itself" prove that Roe withdrew consent during the encounter. The committee still needed to evaluate Roe as she made her allegations.
It also wasn't enough for Doe to submit questions to the investigator to ask Roe, as the university claimed satisfied due process. Not only did the investigator not ask her the questions, but the committee should have assessed her "demeanor in responding to questions" posed by John, even indirectly, Bendix wrote.
The structure of the university's adjudications was also a problem for the appeals judges: The investigator is also a member of the review committee.
CMC had claimed that the other committee members could evaluate Roe's credibility by simply asking the investigator for her demeanor during interviews. All three members judge "findings of fact," though, Bendix wrote: "Fairness required, therefore, that all three hear from Jane before choosing to believe her account over John's."
MORE: Judge approves subpoena for Obama records on anti-male bias
During oral argument last month, Justice Victoria Chaney had remarked that cross-examination was particularly needed in this kind of Title IX adjudication. Since "94 percent of communication is non-verbal," an interrogation would aid in the review committee's decision, she said.
"If the only perspective of the information is through the investigator," Chaney told the university's counsel, "the judges are seeing things through a filter rather than from the original source."
The judges acknowledged in their ruling, as have other courts, that Roe would be in a potentially awkward position in the context of cross-examination.
"We are mindful … of the concerns raised in [previous California rulings] that a complainant's participation in the hearing may be traumatic or intimidating for him or her," Bendix wrote.
However, testimony by other methods, such as behind a screen or even over a video call, removes the need for the accused student to "physically confront his accuser."
As in the 6th Circuit ruling, CMC has an obligation to provide the fact-finder a means of evaluating an accuser's credibility, Bendix said.
CORRECTION: The original article misidentified a justice quoted from oral argument. She is Justice Victoria Chaney. The article has been fixed.
MORE: Title IX official can be personally liable for anti-male bias: 6th Circuit
MORE: 6th Circuit orders cross-examination in campus rape cases
IMAGE: pathdoc/Shutterstock
Like The College Fix on Facebook / Follow us on Twitter