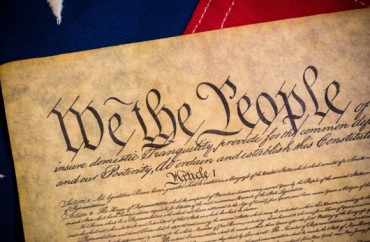 Our 2017 year-end fundraising campaign runs through Dec. 31, so please consider a tax-deductible donation of any amount to help us continue to publish the best campus news in the nation. Thanks for your support!
If you want to be harassed by campus bureaucrats, ask passers-by to write whatever they want on your oversized beach ball. Oh, and pass out copies of the U.S. Constitution.
This combination served as catnip for Skyline College administrators who told Eric Corgas, president of its Young Americans for Liberty chapter, that not only did he have to remove a "small folding table" while he distributed America's founding document Oct. 25, but he had to turn in a permit application before he did anything.
Following a warning letter from the Foundation for Individual Rights in Education earlier this month, the member of the San Mateo County Community College District has junked its policies against permission-free "expressive activity."
According to the letter, Student Services counselor Alberto Santellan told Corgas and his coterie they would "get in trouble" if they didn't remove the table. Director of Student Development Amory Cariadus then chastised the group for not giving her sufficient notice that they would be publicly promoting civic education:
"We're okay with you guys doing free speech, but, like, you guys gotta, like, let me know, not just send me an email at, like, 1:00" [she said]. Cariadus then instructed Corgas to complete a copy of Skyline's "Free Speech Permit." Cariadus told the students that "it probably, if [they] were, like, not disruptive, it wouldn't be an issue" if they did not fill out the permit. However, she later said that the school receives complaints about free speech all the time.
Since then, the YAL president has notified Cariadus of his campus activism ahead of time, but he has refused her demand to fill out a "free speech permit," according to FIRE.
That demand explicitly violates the district's policy, which says its campuses cannot stop expressive activity "solely because" the expressive group doesn't get permission. Skyline is also violating district policy by designating its campus a "non-public forum" except for its free-speech zones, FIRE attorney Brynne Madway told Skyline President Regina Stanback Stroud.
MORE: Student jailed because Constitution threatens 'rural farm' students
She cited a 2012 decision by the 9th U.S. Circuit Court of Appeals – "the rulings of which are fully binding on your institution" – that Oregon State University can't restrict off-campus newspapers more than on-campus papers because the campus is "at least a designated public forum" under state regulations.
"The outdoor areas of Skyline's campus are, accordingly, at minimum a designated public forum," Madway wrote. The free-speech permit itself, which includes a "check box" for Cariadus's department to sign, invites the school to discriminate against students by viewpoint and content because they have to disclose their "topic or issue" and what will be "displayed or distributed" during their activities.
Requiring a permit to engage in such expression – particularly when the authorities require participants to identify themselves, as Skyline does – "without narrow, objective, and definite standards" is an unconstitutional prior restraint, Madway wrote.
The lawyer called Stroud's attention to Skyline's vague policy letting administrators vacate even the the free-speech zones if activists become "a distraction to the education process":
Between the fact that anything could be a distraction to someone and Cariadus informing Corgas that Skyline receives numerous complaints about expressive activities, it can be assumed that Skyline could use this vague standard to ban any expressive activity it disagrees with under the pretense that it is a distraction.
Madway also reminded the president that the federal government has recently joined the crusade against speech zones, including one of FIRE's own cases against a similar permit-required policy.
She brought down the coup de grace by noting how many other colleges have paid tens of thousands of dollars to settle legal actions it helped coordinate against similar speech-chilling policies.
FIRE said Friday the community college acted quickly to change its policies after being warned, rescinding the permit requirement and publicly clarifying that "students can engage in expressive activity outside of the school's free speech areas." (Madway said the college would earn FIRE's highest speech rating if it had been formally rated.)
It's not Skyline's first blooper when it comes to chilling speech.
Nearly four years ago, it told staff not to speak with the media but rather forward queries to its public relations chief, in order to "protect the Brand and image of the College." After backlash from the community, President Stroud apologized and said the policy was "badly worded."
Read the letter and blog post.
MORE: College that sent cops after Constitution distributors revises policy
IMAGE: Shutterstock
Like The College Fix on Facebook / Follow us on Twitter