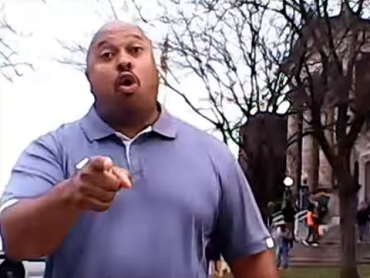 The latest example of high school administrator overreach comes from Fort Wayne, Indiana where a principal was caught on video giving a pro-life group a hard time outside of his school about their placards and the literature it was handing out.
Back in the middle of November, Principal Carlton Mable of South Side High School came out to confront members of the organization Created Equal telling them to "get of my property" and "remove those signs off school property."
There was just one small problem: It wasn't his or the school's property. Created Equal was on a public sidewalk.
As EAGNews.org reports, "[t]he man recording the incident attempted to explain that the group was in fact on public property adjacent to the district-owned school, but Mable wasn't having it."
"No, no, no, off school property," the principal insisted. "Get these signs off my property."
"You can't approach my kids," he said. "Take your stuff and get off my school property."
LifeNews.com notes the Thomas More Society sent a letter on behalf of Created Equal to the Fort Wayne Public School Board demanding an apology … and more:
Acting on behalf of Created Equal and individuals whose First Amendment rights were trampled by Mable, the Thomas More Society has also asked the City of Fort Wayne for reassurances of the continued protection of the pro-life advocates' constitutionally guaranteed rights.

The Thomas More Society letter states, "Principal Mable trampled on rights that are enshrined in the First Amendment to the United States Constitution, Articles 2, 3, 4 and 9 of the Indiana Constitution, and are fiercely protected by the United States Supreme Court. Our clients insist on the respect to which they are entitled. We seek written apologies from Principal Mable and School Board Superintendent Dr. Wendy Robinson, assurances from the School Board that this will not happen again, and guarantees from the City of Fort Wayne that it will continue to uphold free speech rights."
The letter also (rightfully) notes that "'Hecklers' vetoes' are disallowed in our nation, and the public authorities have a solemn duty to protect speakers from those upset over the content of their speech."
District public information officer Krista Stockman responded that those who watch the video "are seeing is a principal who wants to keep his kids safe."
As a former educator, I certainly can appreciate the concern Mable demonstrates for "his" kids. However, one would think the head of a public institution would have a basic grasp of fundamental constitutional rights.
Prospective administrators have to take lessons/courses on education law; apparently, this needs to be extended into the civics realm, as well.
MORE: Christian lunch confab at park near school pestered by district officials
MORE: HS won't let pro-life club start because it's 'religious,' 'controversial'
Like The College Fix on Facebook / Follow us on Twitter
IMAGE: YouTube