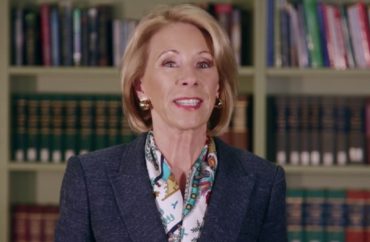 Nothing remotely 'arbitrary and capricious' about it
For the second time this week, a federal judge declined to stop the Department of Education's Title IX regulation from taking effect Friday or delaying its effective date in light of COVID-19 considerations.
While a lawsuit by 18 Democratic attorneys general "raised serious arguments about certain aspects" of the regulation, which governs sexual misconduct investigations in college and K-12 settings, they are unlikely to succeed on the merits of their legal challenge or suffer "substantial irreparable harm," U.S. District Judge Carl Nichols ruled Wednesday.
In doing so, the D.C.-based judge largely validated a friend-of-the-court brief by 14 Republican attorneys general that said the regulation creates "reasonable standards for fighting gender discrimination" while protecting free speech and due process.
Echoing the ruling three days earlier by his New York-based colleague, Judge John Koeltl, Nichols mocked the plaintiffs' argument that the regulation is "arbitrary and capricious," including in its effective date.
Their states have had "almost two years to analyze and understand" the regulation since Education Secretary Betsy DeVos* released the proposed provisions, the judge noted, making their COVID-19 excuse for delay unpersuasive.
Regarding one of their major arguments, that the regulation illegally absolves colleges of responsibility for off-campus environments they can't control, Nichols told the Democratic AGs to blame the 1972 law. That provision "is rooted in the text of Title IX itself," and he won't impose their "preference for a broader" scope.
Several state universities have belatedly adopted new Title IX procedures that are friendlier to accused students as it became clear the legal challenges were unlikely to halt the regulation, a professor who chronicles Title IX litigation noted.
The University of Texas System adopted new procedures Wednesday as well. Its flagship campus in Austin "has been sued several times" by accused students and a "potentially significant case" is pending against its Southwestern Medical Center, Brooklyn College Prof. KC Johnson tweeted.
Court dismisses blue-states' lengthy complaints about fair grievance procedures in one paragraph, implies they weren't serious. Hard to imagine any court arguing that x-examination is some sort of unfair or gender-biased procedure. pic.twitter.com/WJUJ6aTNaB

— KC Johnson (@kcjohnson9) August 12, 2020
Do whatever you want outside of (real) Title IX proceedings
A few issues concerned Judge Nichols, though none was enough to convince him to halt the regulation. One for which he required "supplemental briefing": whether the feds can slap the 18 defendants with a Title IX violation for refusing to follow the new regulation, and possibly yank their funding.
What that means in practice: Can the litigating states "do more" than the regulation "permits to investigate and punish" what they "believe to be sexual harassment"?
The Department of Education argued that the Supreme Court allows it to "promulgate and enforce requirements that effectuate" Title IX's nondiscrimination mandate, and thus require schools to promise to comply. But it also emphasized that it's not blocking schools from "investigating and punishing conduct" outside of the regulation's definition of sexual harassment, as long as they don't call it sexual harassment.
Nichols decided that the Democratic AGs never "clearly" argued in their filings, however, that the department can't punish them for going beyond the regulation. It also has the authority to implement regulations "that effectuate the statute."
In its supplemental briefing on the issue of "mandatory dismissal" – requiring colleges to dismiss formal complaints that are not "sexual harassment" under the regulation – the department argued that it has "no intention" to reduce schools' flexibility to "proceed in whatever manner they prefer" for other conduct.
MORE: Judge says Title IX regulation can benefit both accusers and accused
If a student filed an enforcement complaint against an allegedly fraudulent Title IX proceeding, the feds would "only seek to clarify" that the supposed Title IX proceeding "was not actually required under Title IX," it told Nichols.
This satisfied the judge, who said it was "hard to see how Plaintiffs are likely to succeed even on their narrow claim" that the "mandatory dismissal" rule exceeded federal authority.
Nichols noted that some public feedback during the notice-and-comment period of the rulemaking – long before the COVID-19 pandemic – asked for an "implementation window" of up to three years. The department was not "arbitrary and capricious" by recognizing that the pandemic may not have a predictable end date, and thus providing an implementation window about 50 percent longer than it originally planned, extending into the slower summer months, the judge said.
He reminded the Democratic AGs that their schools have been aware of "something like" the final regulation since the proposed regulation was released in late 2018. The final is "similar to the proposed rule in most respects."
Nichols even cited Judge Koeltl by name, noting that his peer told a different group of plaintiffs – the state of New York and New York City's Board of Education – that they have "likely incurred many of the costs" of complying with the regulation already, given that it takes effect Friday. Therefore, they can't halt the regulation in the name of preventing "economic harms."
Democratic AGs think 'developmental considerations' are irrelevant
Nichols' analysis of the feds' redefinition of sexual harassment, which the Democratic AGs say is illegally narrow, is also similar to Judge Koeltl's in New York.
The three-part "severe, pervasive, and objectively offensive" standard is straight from the Supreme Court, even if the plaintiffs prefer the any-prong "severe, persistent, or pervasive" standard from earlier department guidance, the judge said.
The Trump administration convincingly argued that the two standards turned out to be much different in practice than regulators thought 20 years ago, so it formally adopted the Supreme Court's 1998 Davis test to provide "consistency and simplicity" in compliance, Nicholas noted. The department also limited Davis to conduct that implicates constitutional issues such as speech, while adding requirements for "sexual violence."
It explained well why the educational context of Title IX justifies a different definition of sexual harassment than does Title VII, which governs the workplace, citing "the social and developmental growth of young students" and need to promote free speech among college students. The Democratic AGs simply disagree that "developmental considerations" are relevant, he said.
Court acknowledges ED's concerns w/balancing free speech and sexual harassment, & cites persuasive nature of Judge Koeltl's opinion on the question. pic.twitter.com/tnU3MvNwmK

— KC Johnson (@kcjohnson9) August 12, 2020
The judge summarily brushed off the plaintiffs' complaints about requirements in the "grievance process" such as cross-examination, saying again that the department had explained its reasoning well: to promote "consistent application of procedures" that will restore faith in the Title IX adjudication process and remove "sex-based biases and stereotypes." Nothing about this is "arbitrary and capricious," Nichols said.
While he was concerned that the department may have drawn "overly prescriptive" rules for K-12 settings, Nichols said he didn't have the discretion to change them. The judge noted that the feds exempted K-12 from some college rules, such as live hearings and a limited category for mandatory reporting of sexual harassment.
The Trump administration emphasized that it "reasonably drew the line" at requiring K-12 schools to follow the regulation's grievance process for "inherently punitive or disciplinary sanctions," as opposed to responding to "immediate threat[s]" and providing "supportive measures." None of this is arbitrary and capricious, the judge said.
MORE: Republican AGs tell judge that Trump's Title IX rules are fairer than Obama's
IMAGE: U.S. Department of Education/YouTube
Like The College Fix on Facebook / Follow us on Twitter