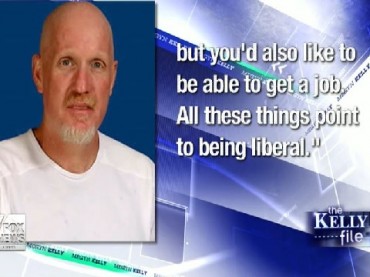 Another liberal professor has been caught on tape ranting against conservatives.
Campus Reform reports that a professor at Eastern Connecticut State University was recorded by a student as he told his Intro to Creative Writing class "that Republicans will close colleges if they prevail in 2014 and that 'racist, misogynist, money-grubbing people' want to suppress the liberal vote."
Professor Brent Terry told his class:
"…racist, misogynist, money-grubbing people have so much power over the rest of us. And want things to go back—not to 1955, but to 1855," Terry said … Monday morning.

"There are a lot of people out there that do not want black people to vote, do not want Latinos to vote. Do not want old people to vote, or young people to vote. Because generally, people like you are liberal."
The student who secretly recorded the lecture, Jason Veley, has since gone on Fox News to say why he undertook the measure, telling Megyn Kelly that the educator's comments were prompted by a poem about social justice and that the professor has railed against conservatives in the past. Veley said when he confronted the professor after class about his politically biased comments, the professor did not apologize.
But since the news broke, the professor has since apologized for the rant, saying: "I allowed my own political opinions to color the discussion. I regret the language I used and I apologize to any students in the room who were offended. As a liberal arts university, Eastern is known for encouraging debate and discussion about a host of social and political issues. My role in my own classroom is to keep the debate lively yet respectful. I did not meet that standard yesterday, and for that I am truly sorry."
But the university has washed its hands of the incident, citing academic freedom.
Alex Smith, College Republicans National Chair, told Kelly this latest example of conservative bashing is indicative of what goes on in classrooms all across the country, all the time. But the good news is, the advent of technology and social media means liberal professors are more often held accountable, at least in the "court of public opinion."
Like The College Fix on Facebook / Follow us on Twitter
IMAGE: Fox News screenshot