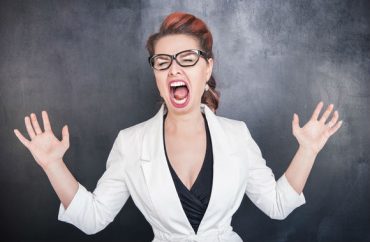 It's the beginning of another school year and here we go again — a teacher at a New Mexico high school is under investigation for going on an anti-President Trump rant in her world history class.
The unnamed female Bernalillo High School teacher was clandestinely recorded by a student in the class, who then forwarded the audio to district administrators.
According to KRQE, Bernalillo Public Schools Interim Superintendent Keith Cowan said the teacher's remarks were "very concerning" and that the district "would take the appropriate action."
The teacher was recorded saying "If you have a history teacher teaching you that Trump is good then I feel really scared for you," and "Technically, [Trump] is the immigrant […] And if he's saying all this stuff about immigrants – and who is his wife?"
The student who recorded the tirade also challenged the teacher and the lesson, an analysis of an anti-Trump political cartoon:
"Miss, why do you think there (were) never political cartoons like this talking to us about Obama?" the student questioned.

The teacher alleged there were cartoons of Obama.

"But, like, taught to us like this? I'm not sure there was, because, like, do you guys ever remember Obama cartoons like that?" the student said.

"Obama was never very radical the way Trump is," the teacher shot back. "Like, he didn't make crazy statements like that, did he?"

"Usually, I'm not even biased, but, like, how can you not be when he's just," the teacher said before the student cut her off.

"There are some teachers here who like Trump," she said.
KRQE also reports a group of students are backing the teacher, saying she "has every right to freedom of speech" and that they do want her fired.
"She's a teacher that cares about your feelings and education. I have a feeling that she wouldn't push someone to believe something they didn't want to," one student said.
Another chimed in on the teacher being absent last Friday: "We lost a day of our education. Our parents are not glad that this has happened because we should be educated just as well as other students should be." (Note the student said "our parents" since there is no student extant who does not like seeing a substitute upon entering a class.)
A third said "I was fairly angry because [the teacher's comments were] an opinion, it's a history class. We all learn from having debates."
If the teacher's statements are accurate as reported, there's not really much of a debate going on. An adult with a captive audience of young teens saying she "feels sorry" for people being told that Trump "is good" indeed is not appropriate.
Why is this constantly so difficult for teachers to understand? It doesn't matter how passionate you are about a political topic — save the ridiculous diatribes for social media if that's your thing (but keep it clean), and use the classroom for balanced and fair discussions of the issues.
h/t to EAGNews.org
MORE: Teacher canned for saying 'only good Trump supporter is a dead Trump supporter'
MORE: Dallas teacher 'assassinates' Donald Trump in class with water pistol
Like The College Fix on Facebook / Follow us on Twitter
IMAGE: Shutterstock