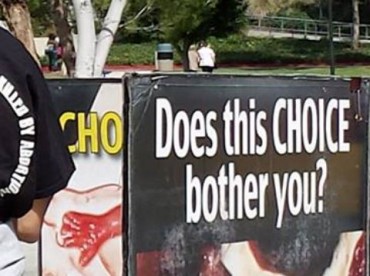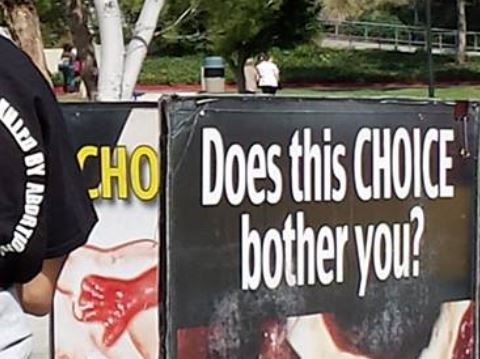 This Daily Emerald headline – "Protestors damage graphic anti-abortion sign" – really downplays what happened this week at the University of Oregon:
Several students surrounded three anti-abortion activists at the intersection of 13th Avenue and University Street on Tuesday before attempting to destroy a graphic poster one of the men was holding in protest.

University of Oregon Young Americans for Liberty President Thomas Tullis and Vice President Brandon Clements recorded the incident, where the activists displayed graphic depictions of aborted fetuses as they denounced abortion.
You'll see a graphic photo of an aborted fetus in this video, so you can decide whether you want to watch, but this police officer apparently thought no one should be allowed to see it.
The confrontation between the students and the demonstrators begins about 14 minutes into the 19-minute video. After a student stood on and ripped an anti-abortion sign, a crowd of students surrounded the protestors, shouting at them and chanting "get off our campus."
If you want an object lesson in the utter lunacy of student logic, check this out:
History major Allison Rutledge was the first to damage the anti-abortion activist's poster. She stood on it and claimed that the activist didn't have a right to display the graphic imagery. …

"I considered the sign obscene and offensive and intending to anger and start a scene," Rutledge said when contacted for comment. "I didn't want to look at that obscenity."

She called the incident a tussle before saying that she felt emotionally threatened by the anti-abortion activist's sign.

"There's a limit to what people should be forced to look at," Rutledge said. "We didn't like it and we actually made him put his sign away. We had no problem with his opinion, but it was his sign. You can't just show whatever you want."
Oregon law on free expression, as the Daily notes, is even broader than the Supreme Court's First Amendment jurisprudence. So no, Ms. Rutledge, he can show whatever he wants, even if you feel "emotionally threatened." Continuing:
"This is our campus and we don't want it — we don't want you and your ugliness," another unidentified woman said in the video.

"This is so violent. This is obscene," the woman told the anti-abortion activist. "This is not part of your First Amendment rights. This is unbelievable."
The police officer's justification for telling the activist to put away his sign or leave is so strange – it violates student government rules? – that eventually his sergeant came over and rebuked him, and the university police promised its officers will be "reminded" to respect speech rights on campus.
The Young Americans for Liberty leaders who recorded the hubbub wrote a separate editorial berating the abortion-rights crowd as "childish" for harassing the lead protester and calling the cops on him. They provide many more details.
It would be hilarious if it weren't depressing:
"This is a private business" the officer told the campus preacher. "On campus we have other rules other than just freedom of speech, ok? […] It's just as if you were to walk into Winco and they have a no hat, no shoes, no service sign or whatever the heck it is."

Despite the fact that many of us have been in Winco many times without a hat, the officer is clearly clueless about the university's actual policy in support of free speech as a cornerstone of education.
Read the Daily story and the YAL leaders' editorial.
Like The College Fix on Facebook / Follow us on Twitter