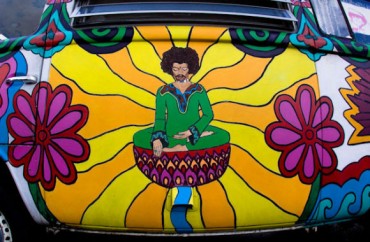 Call it dwell-and-dash.
The Campbell Club at the University of Oregon is $17,000 in debt because, well, people take its anti-capitalist bona fides seriously. Or they're just lazy bums.
The Daily Emerald reports that the Student Cooperative Association, which oversees campus co-ops, will shut down the Campbell Club in two months if it doesn't pay its tab:
Over the last few years, the Campbell Club has struggled with a high turnover rate. Though rent is cheap — between $300 and $400 depending on the room — members tend to move in, stay for a few months and move out, often without paying the owed rent, the source of the debt. The co-op's lack of funds and "anti-capitalist" stance make it reluctant to hire debt collectors.
Known on campus for its "hippies" and the "police raids" that end its parties, the Club is also basically a roach motel. If you're a journalism student, learn how to write ledes like this:
The Campbell Club's dish drainer was "fucked."

"I cut through the pipe and gallons of stagnant sink waste started spraying out," said Waldo Przekop, the job and maintenance coordinator at the University of Oregon's oldest co-op.

Drenched in foul-smelling fluid, Przekop ran to fellow co-opper Jimi Wood for help.

"He comes upstairs covered in straight poop water like, 'Jimi help me!' " said Wood.

Wood toweled off Przekop's face and the two of them rushed downstairs to fix the dish system. After much trial and error, they managed to get it running again.

"But people still throw food in the sink," Przekop said, laughing.

They could have called a plumber, but the Campbell Club is already $17,000 in debt.
Unlike the struggling Che Cafe at the University of California-San Diego, the Campbell Club apparently isn't being offered a bailout to stay afloat.
If you're at UO and want to help the Club survive, go to one of the house concerts it stages to raise money, or move in if you dare.
But be warned: Concerts are no longer "suggested donation" and now you can be a Republican and live there!
"Our major hurdle has been to be more accepting of people who we're not sure would function well in our community instead of just trying to pre-judge," said Wood. "If we need to, we can ask them to leave later."
RELATED: Public university to bail out struggling Marxist-inspired 'Che Cafe'
Like The College Fix on Facebook / Follow us on Twitter
IMAGE: Brett Morrison/Flickr