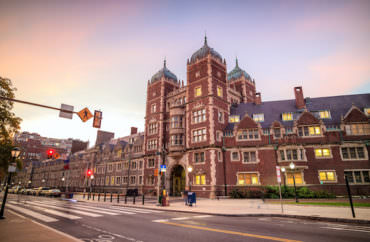 Group wants to increase membership by softening activist efforts
A struggling anti-fossil fuel group at the University of Pennsylvania is promising to alter its political tactics in order to increase both member participation and "dialogue," but the organization continues to remain a provocative and controversial fixture on campus.
Representatives of Fossil Free Penn had recently signaled the group's intentions to shift its activist and recruitment strategies toward a "new focus" and away from its previous "inflammatory" strategies in order to attract more students, according to The Daily Pennsylvanian.
The group, which has been struggling to convince Penn to divest from fossil fuels for nearly five years, has staged numerous protests and outreach efforts across the university's campus, including a sit-in in a campus building, a protest that led to the group's being "written up" by campus administration.
The organization says it is now changing its recruitment efforts to spur membership rates. Activist Zack Rissman told The Pennsylvanian that the group is looking to be "more focused on education than on inflammation," while Fossil Free Penn spokesman Jacob Hershman told The Pennsylvanian that the group wants to alter its outreach in order to create a larger membership than the 15 members that regularly attend their meetings.
In contrast, the total undergraduate population at Penn is just over 10,000.
"It's easy to get people to become aware and sympathetic to the plight that FFP presents," Hershman said, "but it's a lot harder to get people to take time out of their day to support the group."
In spite of these claims, the group's tactics and outreach efforts this semester have continued to generate controversy.
Fossil Fuel Penn spearheaded two separate sit-ins at two separate Board of Trustee meetings this semester, one in September and one earlier this month.
"There can be no option of ignoring us now," Rissman said after the September protest, where protesters implored the board to "Divest Now" and "Stop Funding Climate Change."
Earlier this month, the group also hosted a speaking event during its yearly "Divestfest," in which several speakers railed against "environmental racism." One speaker highlighted the alleged problems with planting pine tries in Israel and the West Bank, drawing a connection between "pine trees, forestation, and the way they further the colonialist agenda through capitalistic (sic) means of timber production," according to The Statesman.
Another speaker sought to "problematize the idea of forestation" by way of "post-colonial theory."
The College Fix reached out to Fossil Fuel Penn via email for more information on its plans for revised recruitment strategies. The group did not respond.
The Pennsylvanian reported earlier this semester that Fossil Free Penn was prepared for "another semester facing off against the University." The previous semester, the group had promised the university that if it did not take action on divestment by September, the activists would "return in full force."
Penn's president, board of trustees, and the school's Student Affairs office did not respond to requests for comment about Fossil Free Penn's demands regarding the school's fossil fuel investments.
Fossil Free Penn is among the numerous divestment groups that failed to persuade their universities to divest in recent years. That failure came even as well over 100 Penn faculty members wrote an open letter calling on the university to divest. The Board of Trustees rejected the proposal in September of 2016.
MORE: High-profile universities reject efforts to divest from fossil fuels
MORE: Penn anti-fossil fuel group upset at administration's 'disrespect,' indifference to its 'sacrifices'
IMAGE: f11photo / shutterstock.com
Like The College Fix on Facebook / Follow us on Twitter