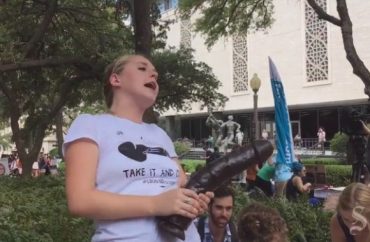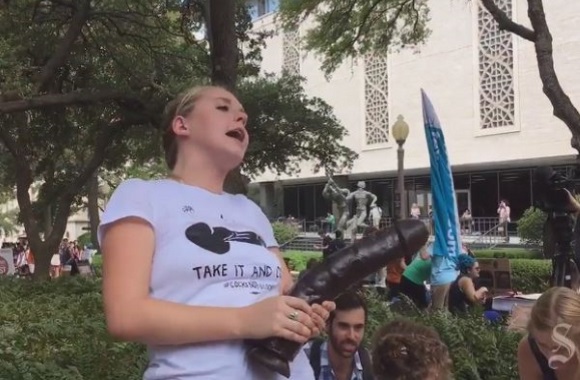 The federal government should be descending on the University of Texas-Austin any day now to investigate the school's response to hordes of students who practiced blatant "sexual harassment."
That's because students who oppose the state's new campus-carry law were publicly brandishing dildos to protest the law last week – and that's certainly "unwelcome conduct of a sexual nature" to at least some students.
The feds imposed the broad standard for sexual harassment three years ago in a "blueprint" agreement with the University of Montana, and reaffirmed it this spring in an agreement with the University of New Mexico, according to Robert Shibley, executive director of the Foundation for Individual Rights in Education.
MORE: Students protest campus carry with sex toys
He writes in the Austin American-Statesman:
Waving a detailed replica of a penis around while yelling "Cocks Not Glocks" certainly counts as verbal conduct of a sexual nature, and surely at least one of UT's more than 50,000 students must have found this speech unwelcome. …

The university defines sexual harassment generally as "(u)nwelcome conduct of a sexual nature," though it does limit this to conduct aimed at "a specific individual" that creates a "hostile or offensive atmosphere." That means that any student with whom the protesters argued on Wednesday could claim to be a victim of harassment under the policy, which specifically lists "exposure to sexually suggestive visual displays" as a potential trouble spot.

MORE: Black dildos are evidence of racism against blacks

The university does attempt to pay lip service to the First Amendment by applying its policy only to expression "not necessary to an argument for or against the substance of any political, religious, philosophical, ideological, or academic idea." But given that the public display of sex toys is hardly "necessary" to argue against guns on campus — people argue against the issue in other ways all the time — this provision will do little to help any student protesters accused of sexual harassment.
Students carried sex toys at anti-campus carry protest—@EDcivilrights would wrongly label this as sexual harassment. https://t.co/lbrhyfOA2c

— FIRE (@TheFIREorg) August 29, 2016
Well, Office for Civil Rights, we're waiting for you to show that you are consistent in applying this extremely broad definition of "sexual harassment" that covers spoken words, gestures – and even phallic political protests – in any situation, regardless of context.
MORE: Profs sue to block campus carry because they teach gay rights, abortion
Like The College Fix on Facebook / Follow us on Twitter
IMAGE: screenshot via Austin American Statesman