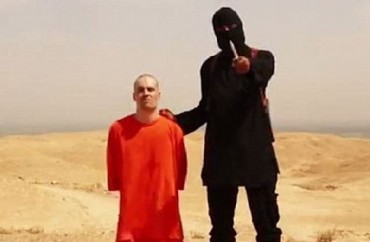 The head of the University College London's Kurdish Society is livid after his invited speaker was prevented from discussing experiences fighting against ISIS.
Kavar Kurda had asked the pseudonymously named Macer Gifford, a former UCL student "who reportedly gave up a top City job" to go join the effort against the terror group in Syria, to give a presentation.
But the University College London Union's activities and events officer, Asad Khan, gave a thumbs down to the invite, allegedly defending his decision (in part) by noting the guest's talk "could lead to others going and fighting in the conflict."
The Independent reports on Kurda's response:
UCL recently banned Macer Gifford from talking at a Kurdish Society event. The [Tab] article shows a great balanced understanding of the altercation which occurred between I and the activities officer, Asad Khan.

However unfortunately, in this incident UCLU proved their unwillingness to take a stance against ISIS and to support the Kurdish cause.

Macer Gifford is an excellent example of someone laying his life on the line in order to champion human rights, and to deny a man who has spoken at the BBC, Portcullis House and an ex-UCL student is absolutely outrageous.

They first claimed he would encourage individuals to go fight in Syria which was nonsense. Having told them I would set provisions for his speech, they still continued to deny him.
RELATED: FACT CHECK: A data-driven response to professor who says America is more 'brutal' than ISIS.
All in all, UCL and Asad Khan displayed horrible prejudice against the Kurdish cause, human rights and the freedom of speech. From the beginning they were intent on preventing Macer from speaking. Furthermore, adding insult to injury, they broke their 10 day policy for approving speakers and made me wait 15 days, which subsequently meant that due to the former policy, I could not find a replacement and as such had to cancel my event.

Asad concluded that UCLU are not willing to take sides in this conflict. By taking a neutral ground, you are implicitly supporting ISIS.
Indeed, according to the student publication The Tab, that is just what Khan said: "In every conflict there are two sides, and at UCLU we want to avoid taking sides in conflicts."
Twitter reaction was not very favorable towards the UCLU officer:
. UCLU Kurdish Society has reacted to the Islamist Asad Khan who banned an anti-ISIS fighter from speaking: https://t.co/IiAfvyv0gM

— Hamo (@KekHamo) November 5, 2015
That not taking sides thing must not have been in effect when UCLU held a referendum on Gaza a couple of years ago. — Jon (@JonB_89) November 5, 2015
. So universities in UK don't want to take sides between YPG& ISIS! A guy who fought ISIS is deemed unwelcome, Islamists are welcome though?

— Hamo (@KekHamo) November 4, 2015
Read the university's full statement.
Read the full Independent article.
RELATED: UC Santa Barbara profs 'contextualize' terror group ISIS.
h/t: Julie Lenarz
Like The College Fix on Facebook / Follow us on Twitter