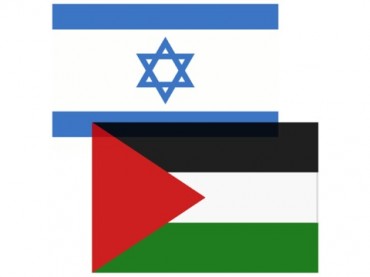 The University of Missouri has come under fire recently for allowing Dr. George Smith, an anti-Zionist activist without a degree in Middle Eastern studies or any related field, to teach an honors tutorial class called "Perspectives on Zionism" this fall.
Smith is a tenured biology professor who has worked at Mizzou for 30 years. During his time at MU Smith has consistently advocated against the Jewish State, instead siding with Palestinian terrorist groups like Hamas.
But the university doesn't believe this disqualifies him from teaching a tutorial course on Israel, defending the selection in an email to The College Fix.
Smith has published numerous articles bashing Israel. In his writings in the Columbia Tribune he calls Israel's establishment a "shameful chapter in Jewish history," and creates a moral equivalence between Israel's independence for the Palestinian-Arabs and the Holocaust for the Jews.
In another column, Smith describes Jewish residents of the West Bank as "armed thugs" and accuses Israel's democratic government of practicing and condoning "apartheid-like discrimination against its Palestinian subjects" and subjecting Arab Israeli citizens to "Jim Crow laws."
Smith has also disrupted a pro-Israel student event.
In 2013, Mizzou Christians United for Israel hosted Israeli speaker Noam Bedein to speak about his eyewitness accounts of terrorist attacks in Israel.
A poster advertising for the event described the rocket attacks Hamas fires from Gaza into southern Israel, killing and injuring the residents of towns near the border. But Smith showed up at this event and distributed fliers that joked that these attacks were justified because the average Palestinian has to "go through a checkpoint every time he has to take a sh*t," according to MU alumnus Daniel Swindell.
Last year, Smith also hosted a lecture on campus, "The Everyday Occupation of Palestine," featuring Saree Makdisi, a leader in the Boycott, Divestment, and Sanctions (BDS) movement against Israel. Swindell reflected in his editorial in The Times of Israel that during the lecture, Makdisi called for the removal of Israel's borders, which would effectively destroy the Jewish State.
Makdisi also argued in this lecture that it is more important to eliminate the Jewish State than it is to make a Palestinian one, according to JNS.
Smith also contributes to the anti-Israel online publication Mondoweiss in which he has argued that Hamas, the Islamic terrorist organization based in Gaza, has "repeatedly pressed" for an agreement with Israel, but the Jewish State is not interested in "ending violence by negotiation."
In another piece on Mondoweiss, Smith writes, "Another term for apartheid in Palestine is Zionism" and then argues that Jewish roots in Israel go back only "30 or 60 years."
Via email, Smith refused to respond to The College Fix's request for comment.
In his editorial in The New York Observer, Paul Miller likens MU's approval of this course to letting David Duke teach a class on African-American history.
"This insanity is a reality and your children are being indoctrinated," he wrote.
JNS reported that sixteen different organizations sent a letter with their concerns to MU Chancellor R. Bowen Loftin urging him to cancel the class before it became "a stain on your university's reputation and a disservice to students. … Smith's proposed course would certainly contribute to a campus climate favorable to anti-Semitic acts."
But MU officials do not share these concerns. Despite his activism and lack of credentials, the university defended Smith and his tutorial course on Zionism.
The university said in an email to The College Fix that honors tutorials such as "Perspectives in Zionism" are "taught by instructors with expertise in the subject area and are intended to offer students opportunities to learn and express opinions on a variety of diverse topics…The Honors College has a long history of faculty teaching these courses outside of their normal teaching disciplines and offers an invaluable model of broad intellectual curiosity for honors students."
Campus officials also described the process through which these tutorials are approved by the university.
"Anyone proposing a new honors course must submit a syllabus and online proposal form to be reviewed by the Honors College curriculum committee composed of honors faculty, staff and students," they stated. "The tutorial on Zionism was reviewed and approved by the committee in a vote of 8 to 4 with 2 abstaining."
However in June, the university was forced to cancel the class due to lack of enrollment. MU officials told The College Fix that zero students signed up for the course.
Chantelle Moghadam, co-founder and president of Students Supporting Israel
at the University of Missouri, told The College Fix in an email that her group organized a letter-writing campaign to the director of the Honors College expressing their concerns about the class based on past experiences they had with Professor Smith.
The pro-Israel community at Mizzou is relieved that students were not interested in taking Smith's tutorial.
"[E]veryone at our chapter of Students Supporting Israel was thrilled to hear the class was finally cancelled," Moghadam said. "We are confident that our advocacy against it contributed to its cancellation, leading to a better learning environment for everyone at the University of Missouri. As students, we see it as our responsibility to uphold the university's standards of academic integrity, and we expect the university to do the same."
And Destiny Albritton, president of Mizzou's Christians United for Israel chapter told The College Fix, "there just wasn't an appetite from students to take a class from an unqualified professor motivated by bias rather than academics."
As Miller wrote in the New York Observer: "Leave it to the students to see through a college's progressive agenda and academic malfeasance to right a wrong."
Like The College Fix on Facebook / Like us on Twitter