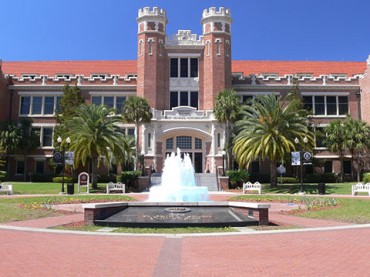 OPINION
Progressive activists who criticize Florida State University for taking $1.5 million from a libertarian billionaire might want to look at other FSU programs bound by ideological strings – from the left.
The 2008 donation from the Charles Koch Foundation that set up and funded FSU's program for the Study of Free Enterprise and Political Economy has sparked an entire industry of anti-Koch activities, targeting schools as varied as Boston's Suffolk University and the University of Kansas. (The latter has become a referendum on academic freedom in the context of "scholarly communications.")
Arizona State University is the next target of the UnKoch My Campus campaign: Founding member Kalin Jordan told The College Fix it's trying to uncover documents that show ideological strings attached to a $3.5 million Koch donation from November that created the Center for the Study of Economic Liberty in ASU's business school.
Selectively targeting 'undue influence'
Critics have seized on the controls imposed on the FSU money – giving the foundation a say in whom to hire and what to teach – saying they constitute improper meddling in internal decisions and violate academic freedom.
According to FSU's written agreement with the Charles Koch Foundation, the purpose of the program is to "advance the understanding and practice of those free voluntary processes and principles that promote social progress, human well-being, individual freedom, opportunity and prosperity based on the rule of law, constitutional government, private property and the laws, regulations, organizations, institutions and social norms upon which they rely."
For faculty members, journalists, bloggers, and students who have criticized those conditions, hiring teachers to study free-market institutions is unacceptable bias.
Jordan of UnKoch My Campus said her organization aims to fight "undue influence on academic freedom" on college campuses nationwide. Speaking of the Koch brothers, Jordan said they "use their political capital and finances to push research through that benefits their bottom line."
Gladys Nobriga, a member of the FSU Progress Coalition, told The Fix her group supports "academic freedom" as defined by the 1940 Statement of Principles on Academic Freedom and Tenure, from the American Association of University Professors.
Its statement that "freedom in research is fundamental to the advancement of truth," Nobriga said, conflicts with the ideological intent of the research undertaken by the Koch-funded FSU program.
Yet right under her nose exist a research center and an entire academic department that impose a liberal litmus test on their FSU faculty.
Circumscribed by climate-change dogma
The mission statement for FSU's Energy and Sustainability Center contains a number of assumptions any would-be researcher or student would have to accept before undertaking work there. The statement says "the need for energy systems that have much lower emissions of CO2 and other greenhouse materials to the atmosphere is of paramount importance" to its research.
Does acceptance of that statement as fact imply ideological commitment? Absolutely—belief that human CO2 emissions are driving climate change is implicitly required. A professor or student who believes otherwise would have his or her "academic freedom" restricted by working for the center.
The FSU's Women's Studies department operates under similarly restrictive ideological boundaries. The description of its major says the department "seeks to delineate the richness and diversity of women's experiences and viewpoints." It also says the department aims to "use gender as a category of analysis."
These statements imply a belief in women as a distinct human category that ought to be studied for its own sake. An academic working for the Women's Studies department would conduct his or her work under the confines of that belief.
These ideological restrictions are no less binding than the ones established by the Charles Koch Foundation for its program at FSU, yet Koch antagonists aren't setting up picket lines outside the Women's Studies department and the Center for Energy and Sustainability.
Limitations are fine if 'clearly stated'
What does "academic freedom" mean to them? That once an academic is equipped with a doctorate and hired by a university, she is free to direct her scholarly energies wherever she pleases? That agreeing to conduct research within ideological confines make her a sellout?
In truth, however, academic research always takes place within practical or ideological confines.
The 1940 Statement of Principles itself says that "[l]imitations of academic freedom because of religious or other aims of the institution should be clearly stated in writing at the time of the appointment.
"The precise terms and conditions of every appointment [i.e., professor hire] should be stated in writing and be in possession of both institution and teacher before the appointment is consummated."
By indicating that conditions may be placed on a professor's employment, these statements show that academic freedom is not absolute. Colleges may impose limitations on academic freedom in the interest of "religious or other aims of the institution."
Why is it unacceptable for the advancement of the principles outlined in the Koch Foundation's agreement – "the understanding and practice of those free voluntary processes that promote social progress, human well-being, individual freedom" – to fall under "other aims" of FSU?
To prove they aren't hypocrites, those who oppose ideologically motivated donations to universities on grounds of "academic freedom" ought to open their eyes to the myriad academic projects that violate their absolute definition of this concept.
College Fix contributor Stephen Edwards is a student at Furman University.
Like The College Fix on Facebook / Follow us on Twitter
IMAGE: Florida State University