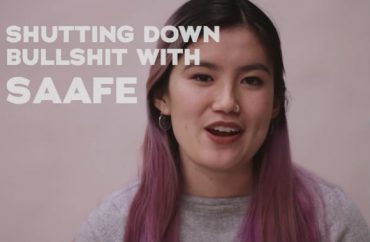 We don't need your 'bullshit' at Wellesley
Nearly two years after she beat a Title IX investigation stemming from her essay on "sexual paranoia" on campus, Northwestern University Prof. Laura Kipnis got a rude welcome to Wellesley College.
Campus sexual-assault activists published a video denouncing Kipnis on Wednesday, just an hour prior to her lecture to a Wellesley group that promotes intellectual diversity.
"Shutting Down Bulls**t with SAAFE" goes after the "white feminism" of Kipnis, who wrote a second essay in The Chronicle of Higher Education about her "Title IX inquisition."
The video was made by Sexual Assault Awareness For Everyone, a student group. Though they do not identify themselves in the video, The College Fix identified them as Wellesley students Molly Nyberg, Katherine Hyslop and Jalena Keane-Lee.
She's not a feminist because 'white feminism is not feminism'
The Wellesley College Freedom Project, founded in 2013 to promote "tolerance, pluralism, intellectual diversity, and freedom of expression," hosted Kipnis for a lecture at its annual Censorship Awareness Week.
The Northwestern professor, a cultural critic who teaches filmmaking, received a different honor from SAAFE before she took the dais.
The idea of trauma, says provocative @laurakipnis at @wellesley, isn't helping feminism "if it turns its adherents into would-be censors." pic.twitter.com/b3AWw557wO

— Edify (@wburEDify) March 8, 2017
"Welcome to 'Shutting Down Bullshit with SAAFE,'" a pink-haired young woman says. "The bullshit that we'll be discussing today is the work of Laura Kipnis." (It appears to be the first video in a potential "Shutting Down" series.)
In the video, the Wellesley students seek to "shut down" the rhetoric of Kipnis by debunking five "myths" they attribute to her 2015 Chronicle essay "Sexual Paranoia Strikes Academe."
MORE: Kipnis beats Title IX investigation prompted by her essay
In that essay, she had argued that campus policies prohibiting professor-student sexual relationships are infantilizing, and that these policies subvert the agency of students to make their own choices.
Kipnis challenged the conventional wisdom that professors can "force" their students into sexual relations. The result of this "obsession with helpless victims and powerful predators" is that "students' sense of vulnerability is skyrocketing," she wrote.
But the Wellesley students were most upset by Kipnis's claim that rape culture isn't real.
"To put it simply, rape culture is the values, actions, and traditions maintained in a society which normalizes sexually aggressive and coercive behaviour," says Hyslop, a senior majoring in media arts.
"Which Laura would know if she was actually a feminist," Nyberg and Keane-Lee chime in.
They take issue with Kipnis's assertion "How does one know sexual advances are unwanted until you try?"
Psychology student Nyberg retorts "Consent, Laura! It's called fucking consent," without answering the question Kipnis posed.
To reiterate their earlier claim, the students conclude with "Myth #5: Laura Kipnis is a feminist."
MORE: Northwestern accused frat of rape based on anonymous report, no victims
Kipnis cannot possibly be a feminist "because white feminism is not feminism," they say, without defining "white feminism." The students then accuse Kipnis of "deciding to keep only the parts of feminism that are convenient" for her, and decry her for having "controversial conversations for the sake of being controversial."
There are some "basics" of feminism "which Laura obviously hasn't grasped yet," they say, defining real feminism as "inclusive" and which "actively fights against systems of inequality."
The video does not refer to anything Kipnis has written in five books on gender and sexual politics.
The video concludes by saying SAAFE "shuts down patriarchal bullshit instead of adding to it." Nyberg initially agreed to a Fix interview but later declined. Hyslop and Keane-Lee did not respond to multiple requests for comment.
Inviting liberals who 'challenge the views of their own side'
Wellesley Sociology Prof. Thomas Cushman told The Fix he created the Freedom Project to bring speakers to campus who "might not otherwise be heard," such as "conservative, libertarian and classical liberal speakers."
It has since "evolved" to "bring liberal speakers who have made arguments that challenge the views of their own side," he added.
Kicking off inaugural @IndexCensorship @wellesleyfp lecture on free expression with Flemming Rose pic.twitter.com/0WfY0uw3pp

— Jodie Ginsberg (@jodieginsberg) March 10, 2017
Regarding the SAAFE video, Cushman said he welcomes it as "form of dissent" and respects "the emotions within it," but said its claims about Kipnis's views were not "accurate or fair," which will be clear when the Freedom Project posts Kipnis's lecture.
Censorship Awareness Week is just one way the Freedom Project promotes its mission.
It also hosts a speaker series – "Why Conservatives Embraced Criminal Justice Reform" is one upcoming event – and a yearlong academic program focused on freedom that accepts 15-20 students every year.
The project has even bigger plans for next year, Cushman said. It's working with New York-based Scholars at Risk "to host refugee intellectuals from authoritarian countries who will be provided a refuge to continue their scholarly work without intimidation."
MORE: Feminist website takes down un-inclusive sex researcher's article
Cushman's organization hasn't been without controversy.
Days before Censorship Awareness Week, The Wellesley News editorial board named and shamed the project, which does not receive any Wellesley money, for recently obtaining funding from the Charles Koch Foundation.
The gift "was not publicly disclosed to the student body," the editorial said. "We certainly do not mean to imply that any on-campus institution is receiving suspicious donations," but students should know how programs are funded so they can know that "certain speakers brought to campus may reflect the biases of the donors."
Cushman pushed back against the editorial's claims, saying its funding agreement with Koch provides an "absolute guarantee of complete academic freedom" to Wellesley. "Not one of the Freedom Project's decisions on any of its activities is subject in any way to the 'biases of the donors,'" he said.
Other Freedom Project speakers have included Steven Pinker, a noted Harvard psychologist and linguist, and Sophie Richardson, the China director at Human Rights Watch.
MORE: Professor group says Title IX enforcement killing academic freedom
Like The College Fix on Facebook / Follow us on Twitter
IMAGE: SAAFE screenshot