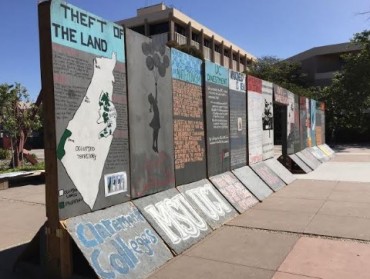 ANALYSIS
A nationwide survey of self-identified Jewish students found that a majority of them, 54 percent, had suffered or witnessed incidents of anti-Semitism on their campuses in the last school year.
At the University of California Santa Barbara, that problem has manifested itself in a variety of ways this year, offering a case study, a microcosm of sorts, of the larger issue at hand.
Last October, flyers blaming Jews for 9/11 were discovered on the UCSB campus. They alleged "9/11 was an outside job" and that "9/11 was Mossad," referring to Israel's intelligence agency.
The incident prompted a student government resolution denouncing anti-Semitism, but the effort had little effect.
Rabbi Evan Goodman, Santa Barbara Hillel's leader, recalls a student earlier this year who came to him, upset because after walking home from an event with a small Israeli flag in her hand she was harassed multiple times, with students hurling insults at her for being pro-Israel and Jewish.
In the weeks leading up to a recent student government vote on whether to divest from Israel, Students for Justice in Palestine erected a protest wall condemning Israel's "Apartheid."  It was placed in the Arbor—the free speech zone— and students and professors were forced to walk around it to continue on the pathway.
Goodman argued that the wall itself was anti-Semitic, since "Israel is the homeland of the Jewish people" and "to single out one Jewish country in the world for special condemnation that would be not given to any other country in any other situation, is anti-Semitic."
At first, the protest wall was placed in such an intrusive way that emergency vehicles would not be able to pass through campus, and the fire department got involved. "The university in the end had to spend student dollars to move the wall from where it was placed originally," Goodman said.
Several Jewish students at UCSB voiced frustration over the "wall" in interviews with The College Fix.
Sophomore Eric Lendrum said he felt disgusted by the demonstration, not the least of which because SJP put it up during Passover, the holiest time of the year for the Jewish people. He also accused the display of "blatant lies and out-of-context 'facts' regarding Israel and its defense forces."
That sentiment was echoed by UCSB junior Margaux Gundzik, (pictured) who said the wall was essentially accusing Israelis of racism and oppression, a far cry from reality.
"First of all, there is no apartheid in Israel," she said. "The 'wall' is actually just a security fence. Only a small portion of the fence is a real wall, and that portion was built in an area where there had been a large number of terror attacks carried out by Hamas and other terrorists coming from the Palestinian territories. And it's worked since they've stopped hundreds of suicide bombers since they built it."
To counter the anti-Israel wall, StandWithUs, a non-profit that aims to support Israel internationally, brought in a pro-Israel wall advocating for the Israeli people.
Rather than taking quotes out of context, pulling words out of larger quotes, and treating the conflict like a sporting event with a death tally, the counter-protest wall took a positive approach. It displayed panels titled "Palestinians Deserve Better From Their leadership," "Israeli Arabs Enjoy More Freedom In Israel Than In Any Arab country," "Teach Peace," and more.
Shortly after the dueling walls, the student government debated a resolution to divest from Israel. That's when a flurry of anti-Semitic comments were made.
"We heard at the divestment hearing a variety of insults that veered into anti-Semitic imagery and language," Goodman said. "In particular, one gay student spoke up about how Israel was a terrible place for people who are gay or lesbian, and that it is better for them in other Middle East countries. The comments were made anti-Semitic when he said Israel wants to be friendly to gays because the country wants to take the money of people who they normally wouldn't be friendly toward to gain more money from tourism."
"It's so absurd it's laughable, but you say a lie enough times and people believe it."
Gundzik was also a victim of verbal assault at the divestment vote, which ultimately failed. She detailed those experiences in a letter to the editor, saying:
In those eight hours, I was told that Jews control the government, that all Jews are rich, that Zionism is racism, that the marginalization of Jewish students is justified because it prevents the marginalization of other minority groups, that Israel sterilizes its Ethiopian women (this is obviously not true), and that Palestinians in America who speak out against Israel are sought out by the IDF and denied entrance into Israel (also a ridiculous conspiracy theory).

I heard a senator—someone who is supposed to be my representative—say that people were only voting against this resolution because they were afraid of losing "Jew support." I heard my peers laugh at the mention of terrorists hurling stones at the heads of Israeli civilians intending to kill them. I saw students smile and cheer enthusiastically as a woman stood up and said the words, "I am ashamed to be a Jew." The rhetoric I heard from students opposing Israel at this meeting could easily be equated to arguments that I have only seen in quotes at museums or mentioned in textbooks for their use in the justification of historical persecution of the Jewish race.

If any other minority had voiced these same concerns regarding any other resolution, no administration would dare question the validity of their feelings. The resolution would be dismissed without question. Yet, my community is forced to stand in front of hundreds of people year after year and explain to them why something is racially offensive to us.
In an interview, Gundzik added that her resentment toward her anti-Semitic peers stems from the fact that they want her to defend why she feels marginalized or offended by the resolution. If it were any other minority on campus who expressed offense toward a resolution targeting one's minority group, the university would halt the legislation immediately, she said.
"It is hard to believe that people believe they are not anti-Semitic when they are advocating for the destruction of the Jewish state," Gundzik said.
College Fix reporter Austin Yack is a student at the University of California Santa Barbara.
Like The College Fix at Facebook / Follow us on Twitter
PHOTOS: Austin Yack, for The College Fix