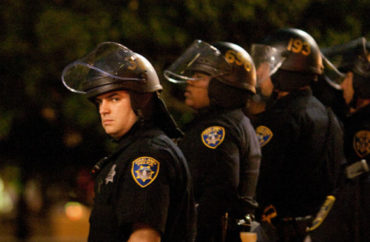 Chancellor: 'Finish them off' is more ambiguous than messages I've received
Syracuse University Prof. Dana Cloud said she wasn't inciting violence against anti-Sharia protesters when she tweeted from the counter-protest:
We almost have the fascists in on [sic] the run. Syracuse people come down to the federal building to finish them off.
Violence didn't break out on the gatherings that day, but it was likely because Cloud and her Antifa allies were wary of the law enforcement presence and armed civilians guarding the rally, anti-Sharia protest leader Lisa Joseph told Campus Reform:
Joseph claimed that Cloud had aligned herself with the New York Antifa Alliance, a "hate group which caused chaos and violence at all 25 [anti-Sharia] rallies held across the country," adding that tensions ran high between her supporters and the antifa protesters, with "a lot of middle fingers" thrown around, but no violence thanks to the vigilance of police officers.

"The fact that she wrote 'we have them on the run' proves that they were trying to run us out and shut us down," Joseph told Campus Reform. "I shudder to think what would have happened to us if the lightfoot militia and the police weren't there to protect us."
I was the organizer of this rally, the one she incited violence against. She came to shut down my free-speech nobody seems to remember that https://t.co/1oOuOhNQ2C

— Lisa Joseph (@lisajo8021) June 26, 2017
Campus Reform cites pro-Antifa website It's Going Down as making the same point in a firsthand account from the Syracuse counter-protest:
Plainclothes NY state police lurked on the outskirts of our coalition. They attempted to isolate us, lead us away from our comrades, and fish for information. …

Police and fascist-militia presence aside, through our numbers, we had control of the situation. Whether or not we realized it in the moment, any escalation was in our hands. The size of our bloc compelled the police to escort the fascist-militia to their cars. Oh the irony! …

This action gave us invaluable experiential knowledge for future tactics: when we claim them, the streets are ours.
Antifa thugs, who wear masks and travel in blocs to evade identification by law enforcement, have previously felt emboldened to use violence against their opponents, including one poor soul who got cracked in the head with a bike lock at the so-called Battle for Berkeley.
Cloud told The Daily Orange she composed the tweet "in the heat of the moment and [had] not given a second thought" to how it might be interpreted.
Chancellor Kent Syverud sent a baffling email to the community last week saying Cloud's tweet was "susceptible to multiple interpretations," and those who saw incitement to violence in the tweet wanted Syracuse to punish Cloud:
I have received messages to this effect, some of which are hard to interpret in any way other than to encourage violence. They insist that the University – and that I – denounce, censor, or dismiss the professor for her speech.

No. We are and will remain a university.
Syverud seems to be saying that "finish them off" – tweeted as an imperative directed to a specific group against another specific group in a specific place and time where law enforcement are on guard – is more ambiguous than "messages" he has received asking for Cloud's punishment, which "are hard to interpret in any way other than to encourage violence."
The chancellor did not bother to share any of these alleged threats that are more threatening than "finish them off" when your opponents are "on the run."
Chancellor Kent Syverud just sent this email in response to Professor Cloud receiving hate mail and the subsequent statement of solidarity. pic.twitter.com/PV9oR1CGn8

— Sara Swann (@saramswann) June 22, 2017
Read the Campus Reform and Daily Orange reports.
Like The College Fix on Facebook / Follow us on Twitter
IMAGE: Thomas Hawk/Flickr