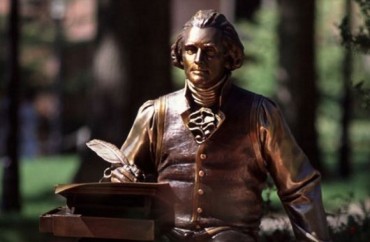 The student who led the effort to remove a statue of Thomas Jefferson from Hofstra University is pretty ticked off that the school president isn't giving caving to her demands.
In a Hofstra Chronicle op-ed today, JaLoni Owens wonders what it will take before President Stuart Rabinowitz and other campus officials see things her way.
Will it be "[Jefferson's] repeated rape of multiracial slave Sally Hemings"? Owens asks. Or, his "documented calls for the genocide and mass murder of enslaved populations"? Perhaps it'll be his role in "sustaining slavery in America and having owned over 600 slaves over the course of his lifetime"?
Her piece comes after Rabinowitz challenged her campaign at an April 25 town hall meeting. The university president had responded that Owens and "every single student on this campus" matter to him after she asked what students of color have to do to feel as "valued" as their white peers.
Since this wasn't a good enough answer, Owens and friends then stood up, turned their backs to Rabinowitz, and held up signs which read "Black Lives Matter! Does Hofstra agree?"
The president retorted
I think it's a bit of a stretch to say Black Lives Matter applies to the Jefferson statue. Secondly, of course black lives matter, and thirdly, this doesn't add to the conversation. I am certainly dumbfounded as to what you really want to accomplish. If you really want to accomplish something, why don't you talk to us and not turn your back on us and hold up a sign and remain mute? Free speech is free speech, but on a pragmatic matter … It's not gonna get the statue removed."
Rabinowitz's remarks filled Owens with an anger she "was unable to process to an extent that permitted [her] to write about it until this week." She called the president's comments "condescending," and "invalidating," but worse — Rabinowitz "has absolutely no idea what it is like to be black, a woman and unapologetic about those identities."
President Rabinowitz has no idea how traumatizing it has been for me to force myself to abide by respectability politics because as my pain and its validity is labeled divisive and misdirected, is the lede of journalism course assignments, is the subject of academic papers and is the motivation behind social media posts labeling me a terrorist. …

President Rabinowitz has no idea how exhausting it is to lose sleep and to struggle to eat because even though you know that you are on the right side of this issue, you have been so conditioned by American society to feel guilty about being black, about the discomfort your skin color arouses in white people, about vocalizing distress when racism is too much to handle that day and about telling your peers or your professors "that is not funny" when your oppression becomes the joke. …

President Rabinowitz has no idea what it is like to be chased out of your chosen field of study because of the pervasiveness of racism and misogyny within that department, to then report these experiences to a dean of that college and be told that one of the professors who made you feel so vulnerable and inadequate is going to be promoted rather than disciplined and to now anxiously await a meeting with Community Standards because my social media post accusing a professor of racism garnered more attention than my social media posts about experiencing racism.
Owens concludes that she doesn't actually need Rabinowitz to understand, just "to do his job" and get rid of Jefferson's statue. After all, she says, the third US president did all those aforementioned awful things to people "who looked like me, my father, my brother, my uncles, my aunts, my cousins, my closest friends and his students and coworkers."
MORE: Dear students: History sometimes stings. Don't bulldoze it
MORE: UVa students protest Thomas Jefferson statue, call him 'racist rapist'
Like The College Fix on Facebook / Follow us on Twitter