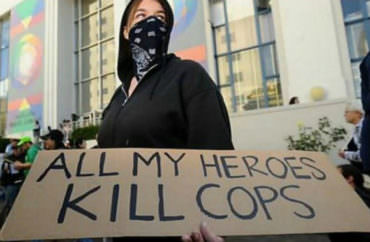 Head of militant leftist group: The Republicans are attacking us
It's never been easy identifying as a Republican at the University of California-Berkeley, but hosting campus events with speakers who enrage leftists seems to be getting more dangerous.
The Berkeley College Republicans say the Berkeley Antifa Twitter account Wednesday posted the alleged but incorrect location of a "BCR meeting" attended by several members (actually just a dinner with friends), The Daily Californian reports.
The Antifa tweet also said the CRs had been "drinking" at a sports bar with the leader of the Fraternal Order of Alt-Knights, Kyle "Based Stickman" Chapman, and the half-Japanese leader of Patriot Prayer, Joey Gibson, whose group held another rally on campus last week.
That was also wrong, said Naweed Tahmas, external vice president for the CRs: They didn't go to that particular sports bar. But that was just the beginning:
A student found and reported to Tahmas graffiti stating "Kill All BCRS" in a Morgan Hall bathroom stall Friday. Tahmas said in an email that these incidents are "clear signs of desperation," adding that BCR is "breaking the shackles of leftist control over our university."
.@BerkeleyCRs alleged liberal activist groups such as Antifa are stalking and harassing conservatives in Berkeleyhttps://t.co/B4HIMG4aQh

— Daily Californian (@dailycal) October 3, 2017
Though Tahmas said conservatives in the college town were "routinely targeted, harassed, and stalked" and it's become "socially acceptable" to beat them up, they haven't recently reported any incidents to campus police, a UCPD spokesperson told the Daily.
An administration spokesperson said the lack of reported incidents leads the university to conclude there are no "campus affiliates [that] have been engaged in any of these recent incidents."
The Berkeley public school teacher and leftist militant Yvette Felarca, who was arrested on assault charges stemming from a previous clash between far-right and far-left groups and claims violence against opponents is "not a crime," is now saying it's actually the CRs who are stalking and attacking her group, By Any Means Necessary.
She told the Daily: "These have been the actions of the racists and misogynists attacking student groups. They try to use the free-speech claim to get away with stalking members of the community."
Felarca (below) recently filed a restraining order against Troy Worden, president of the Berkeley CRs, for allegedly stalking her much of the year.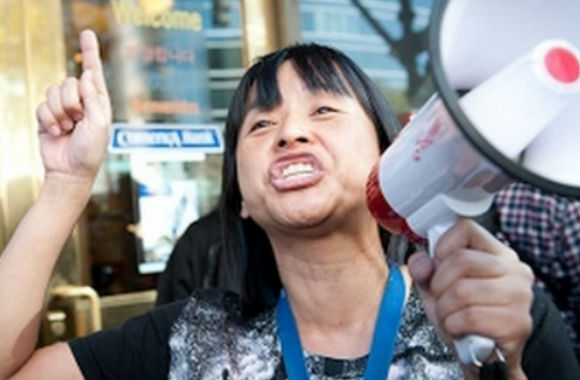 MORE: For third consecutive day, left and right clash at UC Berkeley
IMAGES: Very Fake News/YouTube, Tucker Carlson Tonight/YouTube
Like The College Fix on Facebook / Follow us on Twitter