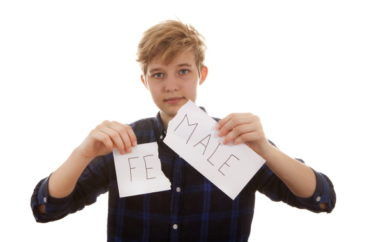 Term to refer to individuals who identify as non-binary; MLA may follow suit
The American Psychological Association is helping make grammar fluid to accommodate current gender fluidity trends, and a statement from a Modern Language Association of America spokesperson indicated the group may soon follow suit.
The APA recently announced scholars in some cases must use "they" as a singular pronoun to refer to individuals who identify as non-binary.
In a recent post, Chelsea Lee, content development manager for APA style, explained the change.
"When readers see a gendered pronoun, they make assumptions about the gender of the person being described," Lee wrote. "APA advocates for the singular 'they' because it is inclusive of all people and helps writers avoid making assumptions about gender."
According to Lee, "Writers should use the singular 'they' in two main cases: (a) when referring to a generic person whose gender is unknown or irrelevant to the context and (b) when referring to a specific, known person who uses 'they' as their pronoun."
The first case is not required by the APA, according to Emily Ayubi, director of APA Style, "provided that writers are inclusive and respectful with their word choice."
When The College Fix asked if the second case was also merely a suggestion, she confirmed it is not: "The guideline to use the pronouns people use to describe themselves, such as 'he,' 'she' or 'they,' is required in APA Style."
The APA is not the only academic organization to accept the singular "they."
"The change came about as a result of recommendations from numerous experts in the field, as well as an acknowledgement of a growing trend among organizations and publishers," Ayubi said.
Earlier this year, Merriam-Webster added the singular non-binary use of "they" to their dictionary, and in 2017 the Associated Press adopted the singular "they" pronoun.
When The College Fix reached out to the MLA for its take, Executive Director Paula Krebs replied that "pronoun use is an issue about which we're talking with scholars as we formulate our guidelines for the next edition of the handbook. Stay tuned."
First established in 1929 by a group of psychologists, businessmen and anthropologist to give structure to scientific documents, APA Style has been a rubric for writing for decades. The first official APA Publications Manual was published in 1952, and since then APA style has been the established means of structuring labs reports, scientific papers, and academic works for a significant portion of authors, primarily those studying social sciences.
Its recent decision is a significant move on the part of the APA, according to LGBTQNation.com, which stated: "It actually means that the American psychological community is recognizing and validating the existence of non-binary people."
As a consequence, everyone who writes in APA style must validate the existence of non-binary people as well.
In her statement to The Fix, Ayubi said "APA's mission is to promote the advancement, communication and application of psychological science and knowledge to benefit society and improve lives. We also uphold as a core value the equitable and fair treatment of all people."
"It is critical to use affirming and accurate language," Ayubi stated, "to describe participants in research and in scholarly writing. It is also important for all readers to see themselves in academic works."
This particular change is part of a section of the new APA style manual titled "Bias-Free Language," which is intended to make authors strive to "avoid perpetuating prejudicial beliefs or demeaning attitudes in their writing."
This section was put together by the American Psychological Association of Graduate Students Committee on Sexual Orientation and Gender Diversity. The chair of this committee is a doctoral student at the University of Massachusetts Boston, Meredith Maroney. She did not respond to The College Fix's request for comment.
MORE: Universities teach gender fluidity as fact to college students
IMAGE: Sandra van der Steen / Shutterstock.com
Like The College Fix on Facebook / Follow us on Twitter