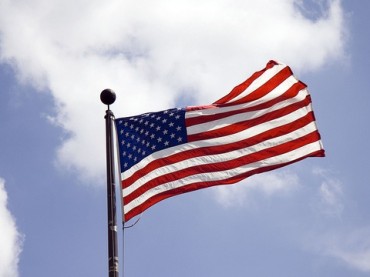 UPDATED
Just when you thought political correctness in schools couldn't get any more insane, here comes Corona del Sol High School in Tempe, Arizona whose football game last evening against a rival HS was supposed to have a "USA theme."
Oops.
"The Tribe (the school's nickname) tweeted out that the theme for the game would be 'USA,' and students should wear red, white and blue. Administration recognized that this theme had negative connotations," reported the school's student newspaper.
Negative connotations. In an American high school.
"This is not something that can be denied —- past games, even as far back as over eight years ago, have showcased themes and chants that appeared racist or offensive toward Marcos [school]. The theme was changed to "Orange Out" after the administration decided it was best to avoid any possible offensive connotations the theme would have."

The student publication informed students that "Students dressed inappropriately will not be admitted."

When a Twitter user asked what constituted inappropriate dress, the publication responded that American flags and Donald Trump merchandise is considered too offensive.
A member of the student paper's editorial board added "Anything perceived to be offensive/racist: green, USA, flags, Trump, etc. It's not the clothing, but the intent behind it."
It'd be interesting to know just how school officials would be able to determine "the intent behind" any of those. And wait — green?? Wha-a-a-a?
Unfortunately for the patriotic set, the courts have increasingly granted schools wide latitude in quelling student expression in the name of "maintaining an orderly educational atmosphere."
UPDATE: AZ Central sports writer Scott Bordow reports that the school district had tweeted out Friday afternoon that there was no ban on wearing certain colors. He also notes that the school administration was dealing with "a group of Corona students who were purposely trying to antagonize Marcos [de Niza HS]," but adds his own bit of highly questionable commentary: 
"Wearing a Trump shirt just to poke at Marcos is offensive. Would it be OK for students to paint their faces black if they were playing a school whose students were primarily African-American?"
Like The College Fix on Facebook / Follow us on Twitter
IMAGE: US Gov./Flickr