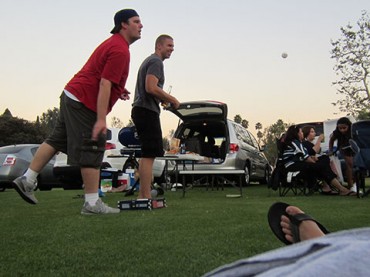 Kegs, beer bongs and flip cup will no longer be staples of tailgating at Arizona State University Sun Devil football games under new rules approved by the school last month.
ASU joined its neighboring public universities in banning such activities in tailgating areas at games, citing public safety. The rules ban kegs or any other "common source of alcohol," "drinking apparatuses" such as beer bongs and "drinking games" such as "beer pong, shot gunning, and flip cup."
The university and Sun Devil Athletics said in a joint statement that the keg ban would "improve the experience for students, residents in surrounding communities and Sun Devil Nation."
The new rules were recommended by the Statewide Student Safety Task Force to the Arizona Board of Regents, which set up the task force last fall to devise "new ways to promote healthy behaviors and activities for students," the statement said.
ASU said it was "aligning itself" with Northern Arizona University and the University of Arizona, which have similar policies.
The new rules let fans "have a great atmosphere inside and outside of Sun Devil Stadium for home football games," ASU spokeswoman Sharon Keeler told The College Fix in an e-mailed statement. They are intended to cut down on drinking-related injuries and accidents, as well as promote healthy choices, she said.
Keeler and Margaret Emmons, another ASU spokeswoman, declined to tell The College Fix whether Northern Arizona or UA had seen a reduction in drinking-related incidents following their restrictions on tailgating. ASU did not say whether it would revisit the ban in the future.
Neither Northern Arizona nor UA responded to requests for comment.
Alumni and students had mixed reactions to the ban in comments on a Facebook post by ASU's State Press campus newspaper . Multiple commenters said the new restrictions would encourage students to enjoy the games for the football, not for drinking. (The post is only visible by clicking the "all stories" tab on the State Press Facebook timeline.)
Others thought that without kegs and drinking games the pre-game atmosphere would be ruined and drive students and other fans away from the games. One alumnus commented that as a "season ticket holder (40+ years for my family) this is angering."
"College football is about the entire experience," a commenter named Eric Johnson wrote. "If the administration makes it 'just about football' then people will watch from home instead of coming to the stadium."
Schools in other states have also banned kegs during tailgating after an accident or death.
Yale's ban in 2012 followed the death of a woman struck by a U-Haul truck that a student was driving to a tailgating party outside the Yale Bowl, according to the New Haven Register.  Oversized vehicles, along with kegs, were banned in an attempt to make the pre-game atmosphere safer and more family-friendly.
This year, California Polytechnic State University implemented a new alcohol-availability policy for sorority and fraternity parties that "reinforces a ban on hard alcohol, kegs and other large-volume containers," the University Herald reported. A first-year student "died from alcohol poisoning during a fraternity ritual" in 2008, leading to increased scrutiny of fraternity and sorority parties.
College Fix contributor Matt Lamb is a student at Loyola University-Chicago.
Like The College Fix on Facebook / Follow us on Twitter
IMAGES: dabruins07/Flickr, Blake Patterson/Flickr