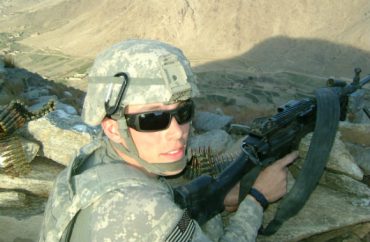 What Columbia can learn from the military's approach to diversity
When Justin Deal enrolled at Columbia University after spending six years in the U.S. Army, he didn't realize that "safe-space culture," as he calls it, was flourishing on campus.
He had two tours of duty in Afghanistan under his belt as a sniper for the 173rd Airborne, where there was no talk of "trigger warnings" or "microaggressions."
Deal, now a 27-year-old studying financial economics, always believed that tales about safe spaces "were just exaggerated stories," he told The College Fix.
But in his fourth year at Columbia, Deal has gathered enough human intelligence to conclude that safe-space culture is harming students, stifling free speech and promoting segregation.
'Soldier first'
The Army had a more nuanced view of diversity than he has experienced at Columbia, Deal said.
He worked with people from numerous backgrounds and underwent periodic mandatory "Equal Opportunity trainings" designed to promote respect for other people. It taught him to not only to respect diversity, but to embrace it.
MORE: Columbia and Barnard host at least 5 safe spaces after Trump win
"Diversity is an amazing thing in that it brings with it different viewpoints. No single person or identity group has the answer to every problem," Deal told The Fix in an email.
But that quality was always subordinated to his broader mission: "The strength of the Army is that it teaches you to identify as a soldier first, and whatever other identity groups you belong to come second."
Indeed, "soldier first" could easily be Deal's mantra. Since the men and women he worked with viewed themselves as soldiers on the same team, they easily came together as a unit.
"The Army puts you into situations where your personal success is defined by the success of your team as a whole," so soldiers must find an overarching commonality with each other even if they look completely different from each other, Deal said.
Stop enabling students to 'lock out other identity groups'
In contrast, Deal has seen Columbia "facilitating barriers that handicap the mental and emotional growth of students," he told The Fix.
More than promoting "the free flow of ideas," the university more often "promote[s] voluntary segregation" for people of different genders, races, religious beliefs, sexual orientations and political affiliations, said Deal, whose fiancee is African American (inset).
For example, Columbia hosts annual retreats for LGBTQ students and students of color, among other resources that encouraging students to affiliate with those who share their own backgrounds.
The school also hosts regular events targeting students from various minority backgrounds. This week it will host a "T(ea) Party" event for "transgender and non-binary faculty, staff and students to talk, teach, and drink tea."
MORE: Columbia student demand punishment of 'hate speech'
Deal believes that "programming and retreats for specific identity groups," which are often sponsored by the administration, promote more division than unity.
"These institutions are facilitating the ability of students to lock out other identity groups and only engage with people who share their same point of view. This is a very dangerous road to travel down."
Make it a debate space
Safe-space culture has gotten worse over time but it can "absolutely" be fixed if administrators rethink their approach to campus life, according to Deal.
"I would call on these institutions to stop providing resources and support for activities that promote segregation," and reallocate them to events that promote intellectual diversity and campus debate.
The core problem, he believes, is that students of different backgrounds are too rarely coming together to spar, debate and learn from each other.
MORE: Columbia students harass families of wrestlers who sent vulgar texts
"Columbia needs to put students in situations that facilitate their interaction with other identity groups instead of stifling it," said Deal.
Another troubling aspect of the campus intellectual climate that Deal noted was the rise of disinvitation attempts against conservative speakers, and the broader climate of students arguing against the university allowing certain speakers on campus.
According to the disinvitation database maintained by the Foundation for Individual Rights in Education, five of the six widely reported disinvitation attempts by the Columbia community since 2006 have come "from the left" of the targeted speaker. (The only exception: student objections to Iranian President Mahmoud Ahmadinejad because of his "stance on Israel.")
Deal is scheduled to graduate later this spring, and while he says intellectual exchange and debate do happen on Columbia's campus, it is "not nearly as often as they should."
MORE: Columbia student reported for 'gender misconduct' because he's 'handsome'
Like The College Fix on Facebook / Follow us on Twitter
IMAGES: Justin Deal