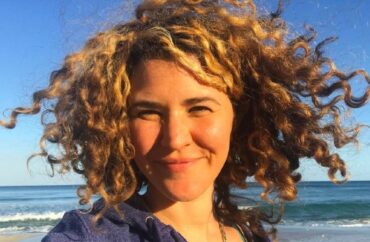 Art museum recently hosted the scholar for a family event
A New York-based art scholar teaches kids how to "summon" their "demons," as part of the artist's broader work on demonology.
The Walker Art Center in Minnesota "held a pagan ritual geared toward families [on Aug. 5], with a performance called 'Lilit the Empathic Demon,'" as reported by Alpha News.
Tamar Ettun, who uses "she/they" pronouns, ran the family event at the taxpayer-supported museum. Ettun (pictured) "teaches at Columbia University School of Arts and Parsons School of Design." She previously taught at the University of California Davis.
Alpha News reported:
The event was designed for families, and finished with a "playful demon summoning session."

"After designing your trap, Lilit the Empathic Demon will come from the dark side of the moon to lead you in locating your feelings using ancient Babylonian techniques," the website explains. "This collective and playful demon summoning session will conclude with a somatic movement meditation, designed to help you befriend your shadows."
Families can "participate in a playful ceremony to summon and befriend their demon," according to the museum.
The presentation is part of the artist's focus on demons and feminism.
Ettun's "recent work centers on Lilit, an aerial spirit demon with origins in Sumerian, Akkadian, and Judaic mythology," according to her bio.
The artist says that "artist-healers created spells, drawings, and talismanic objects to trap demons like Lilit, who was characterized as a dangerously sexual female entity, and appeared frequently on incantation bowls used in protective rituals," in the "2nd through 7th centuries."
"In this project, Ettun revives ancient traditions through a contemporary feminist lens, revamping Lilit's image as an Empathic Demon," the bio stated.
The museum's listed info for Ettun explains how to join the artist's text group to "receive occasional messages from the Empathic Demon."
Ettun also has a museum presentation called "How to Trap A Demon," which was displayed at the State University of New York-Purchase.
According to the description on Ettun's website:
The exhibition parts with the historical gender binarism that associates Lilith's archetype with unchecked violence and manipulation; here, Lilit mediates the inner demons and renegade instincts that are deliberately silenced.

Asking us to consider whose stories, memories, and experiences are occluded in the process of demonization, How to Trap A Demon builds on the artist's research into the insidious side of empathy, empathy fatigue, trauma-healing modalities, and astrology as storytelling.
"Lilit" or "Lilith" is a demonic character from Jewish mythology who has been adopted by other feminists. The fictional character is Adam's first wife before Eve.
Tellingly, pro-abortion activists in Texas named their group the "Lilith Fund." The group funds abortions for women.
MORE: SatanCon to feature 'sexuality studies' professor
IMAGE: Tamar Ettun/Facebook
Like The College Fix on Facebook / Follow us on Twitter