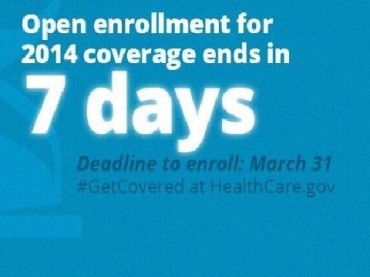 In an apparent desperate attempt to reach college students and prompt them to sign up for the Affordable Care Act prior to the March 31 deadline, the Obama administration and its advocates have launched an aggressive campaign to relate to and motivate the Millennial masses.
While some say the last-minute surge isn't working out as well as Obamacare activists hoped, it's certainly not for lack of trying.
In addition to #GetCovered Twitter messages bombarding young users' feeds, President Obama recently appeared on the online comedy show "Between Two Ferns" with the star of The Hangover, comedian Zach Galifianakis, to shoot the breeze and promote Obamacare.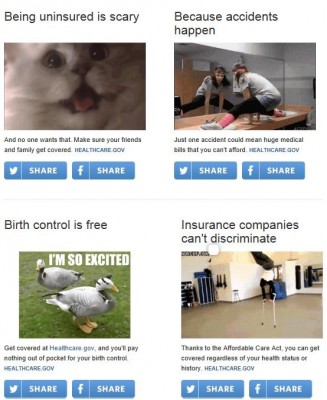 To lasso on to the popularity of the NCAA basketball tournament's March Madness, the White House offered up a "16 Sweetest Reasons to Get Covered" bracket touting the top reasons to enroll.
A "Nag Toolkit" was even developed to help parents bug their kids to sign up for Obamacare on social media platforms such as OKCupid, Tinder and Snapchat.
Underscoring these efforts, health offices at public and private colleges across the nation have hosted traditional "get out the vote"-style enrollment-education efforts to encourage students to sign up. U.S. Health and Human Services Secretary Kathleen Sebelius is even busy stumping for the program on college campuses.
Despite it all, millennial enrollment in Obamacare remains underwhelming.
Corie Whalen, a spokesperson for Generation Opportunity, said in an email interview with The College Fix that there is "no evidence" that the last-minute push by the president and his allies to boost enrollment has been successful.
Whalen said it's because "the Obamacare product itself is terrible," especially for Millennials.
"After all, we're being targeted to pay more in an unfair manner," she said.
What's more, it appears the law could face a serious hurdle if youth enrollment does not increase before the March 31 deadline.
Only about 25 percent of the estimated 5 million enrollees are within the coveted 18 to 24 age-range, Whalen said.
"This falls below the original Millennial target of 40 percent, which the Congressional Budget Office projected would need to be met to make the exchanges economically viable," Whalen said.
But according to her organization – which has been a fierce opponent of the Affordable Care Act since Day One – the problems with this law extend even further beyond youth enrollment numbers.
Eighty-three percent of the current enrollees receive federal subsidies to pay for their plans, Whalen said, and "20 percent have already had their plans cancelled" because they haven't paid yet.
"Between this and the fact that the Department of Health and Human Services has quietly gutted the individual mandate by expanding 'hardship exemptions,'" Whalen says, the Affordable Care Act "has become a new massive entitlement that we can't afford."
She said it is more evidence of an "ongoing war on youth" that directly burdens Millennials with "unsustainable programs and trillions in debt" for the future.
College Fix contributor Andrew Desiderio is a student at The George Washington University.
Like The College Fix on Facebook / Follow us on Twitter