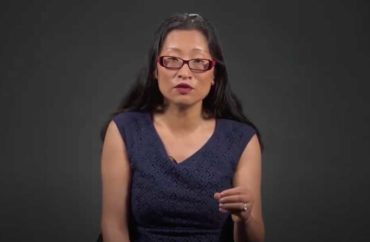 Family stability and dedication to education are linked to academic success
A San Diego superintendent's remarks about Asian students prompted a Chinese-American writer to reflect on the sources of Asian-American academic success.
Though some attribute Asian achievement to wealth and privilege, Helen Raleigh (pictured) argued in The Federalist that her culture's values and practices play a larger role — and they are accessible to all.
During a diversity, equity and inclusion training April 11, Superintendent Cheryl James-Ward said Asian students do well because their families are rich: "We have an influx of Asians from China, and the people who are able to make that journey are wealthy."
After parents and residents called for her resignation or firing, the district board voted to place the superintendent on administrative leave, the Voice of San Diego reported.
Asians are somewhat less likely than Americans overall to live in poverty, 10 percent versus 13 percent as of 2019, according to the Pew Research Center.
However, poverty rates vary by region. In New York City, for example, more than 23 percent of Asians live in poverty by city standards, according to a 2019 article posted by Roosevelt House Public Policy Institute at CUNY Hunter College. That's a higher percentage than any other ethnic group in the city.
Raleigh wrote that she and her siblings "grew up in poverty and on food rations in Mao Zedong's China." However, her family's culture of educational excellence prevailed. "Despite the harsh economic circumstances," her parents began teaching skills early, supplemented school with extra instruction, and "ensured we all understood that there is nothing more important than education," she wrote.
When Raleigh arrived in the United States, she wrote, "the values my parents instilled in me helped keep me focused and disciplined."
"I completed two master's degrees, and education became my ladder to achieve upward economic mobility," Raleigh wrote.
As Raleigh stated herself, she is "not an outlier."
As she pointed out, "the latest test data from NYC public schools shows that Asian students from low-income and well-to-do neighborhoods have the least disparity in academic achievements than other racial groups." That suggests that Asians uniformly value education at home, regardless of income.
Asian-American value placed on education and academic striving continues into the college years: Pew Research Center data shows that 54 percent of Asians 25 or older have a bachelor's degree or more education, compared with 33 percent of the general population.
Intact families are a second norm in Asian-American that leads to academic success. Raleigh states that the majority of Asian-American children live with two married parents. Data from Institute for Family Studies backs this up, showing that Asian-American kids "are by far the most likely to grow up with two married parents: from 2001-2018, a steady 80-85% of Asian children grew up in intact households."
Other data from the Institute for Family Studies show that "students from married birth parent families are more than twice as likely to graduate from a selective college as those from all other family types (20% vs. 8%)." So by supporting a culture of intact homes, Asian-American parents may be helping their children gain admission to and succeed in colleges that will facilitate success.
Operating on the belief that academic achievement is the result of money and privilege, progressives have pushed college admissions to disregard scores on the SAT and ACT, tests on which Asian Americans perform disproportionately well. According to the New York Times, 55 percent of Asian-American test takers scored a 1,200 out of 1,600 or higher on the SAT in 2019, the highest percentage for any ethnic group.
The Supreme Court agreed in January to review a college affirmative-action case brought by Students for Fair Admissions on behalf of Asian students and parents, who allege that the undergraduate admissions at Harvard deliberately discriminates against Asian Americans.
Pursued in the name of equity, measures to eliminate testing and curb Asian admissions assume that academic success is due to arbitrary or unjust factors and the process must be manipulated for the sake of fairness.
But success due to virtues inculcated by one's family and culture is not arbitrary. Moreover, though no one can choose the family into which she was born, we can each influence the culture of the families and communities we help form ourselves.
Raleigh's argument is supported by older findings by economist Thomas Sowell, advanced in his 1981 book "Ethnic America" and elsewhere in his work. Sowell, who is black, asked "why the Chinese, the Japanese, and others, like the Jews — vulnerable minorities, frequent scapegoats, ready targets — have fared so well in America," wrote sociologist Peter Rose in Christian Science Monitor.
"[Sowell] says it is because they maintained tight families, held to a highly disciplined work ethic, stressed the importance of education, and pushed their children to be better than themselves," Rose stated.
But hard work, respect for education, and intact families don't belong to any one ethnic group. Their inherent value and the benefits that follow – including improved academic success – should recommend them to all of us.
MORE: Harvard ruling shows liberals are OK with racial discrimination as long as it's against Asian Americans
IMAGE: Information Station/YouTube
Like The College Fix on Facebook / Follow us on Twitter