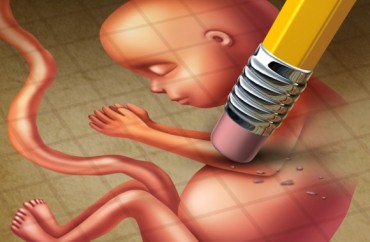 An assistant principal at a Chester County, Pennsylvania school is now on leave for berating a group of pro-life teenagers after school last Friday.
Downingtown STEM Academy's Zach Ruff is on video threatening to call police on the teens, and telling a 16-year-old "You can go to hell or they (the fetuses) ought to" and 'You can go get a freakin' life."
"They're not children! They're cells!" Ruff angrily exclaims at one point, followed by "GO HOME!"
When one of the teens says that we live in a society that murders human beings, Ruff responds "Yeah, it's called the death penalty. Why don't you go protest that?"
Philadelphia's NBC-10 has more:
"Listen here, son. I am as gay as as the day is long. I don't give an (expletive) what Jesus tells me about what I should and should not be doing. You are harassing public school students and I will call the police if you don't shut up," Ruff said.

"You're acting very immaturely. I'm 16 and you're yelling at me," said the teen. "The truth is Jesus Christ died on a cross and rose again. You can be set free from your sins."

One Facebook user, who identified herself as a student at STEM, said the protesters were blocking traffic and distracting drivers with graphic images of aborted fetuses.

"Mr. Ruff had every right to defend his students. What they are not showing in this video is what the posters actually depicted. There was a horrendous image of a dead baby covered in blood. This image distracted me and I almost rear-ended the person in front of me," she wrote.

Downingtown Area School District posted a message on its Facebook page regarding the incident:

"We do not condone or support the conduct expressed in the video and are deeply disappointed that this incident occurred. His conduct does not represent the values of the school district or the respect we expect our employees to show for the civil rights of others," the statement said.
Ruff will remain on leave pending an investigation. The pro-life students are members of a "Christian activist network" called Project Frontlines.
One parent who has a senior at the school spoke in support of Ruff, saying he's "a really good guy" and a "big teddy bear who has a great sense of humor." Numerous commenters to the NBC-10 article backed Ruff as well.
Need it be asked if Ruff would have acted similarly if the teens were Black Lives Matter activists? Pro-transgender demonstrators? Illegal alien rights advocates?
MORE: Don't forget about the persecution of campus pro-lifers
MORE: Pro-life club denied participation in public university's social justice fair
Like The College Fix on Facebook / Follow us on Twitter
IMAGE: Shutterstock