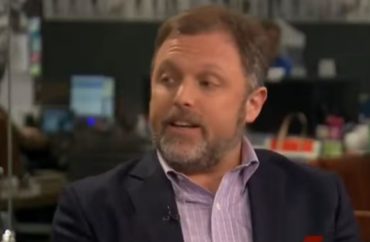 'Anti-racist' speaker Tim Wise keynotes Welcome Week
Before classes even began at The College of New Jersey, lessons were underway for new students, who were told at a recent mandatory new student orientation event that rugged individualism is a myth, Fox News hosts are backward and bigoted, and white people are mentally weak.
All that plus America "was never really such a great place for millions of people."
The 90-minute presentation took place Friday at the public university in Ewing, New Jersey. It was titled "Do You Hear What I Hear?" and led by Tim Wise, introduced to the crowd as an "anti-racist writer and educator."
Wise, who has authored books such as "White Like Me: Reflections on Race from a Privileged Son" and "Dear White America: Letter to a New Minority," began his presentation by telling students his talk aimed to highlight "what the purpose of this institution is, what the mission of this institution is, what its vision, what its values happen to be."
"That can't wait, that isn't something that's secondary to your academic stuff," Wise told the crowd of about 1,500 students, according to a College Fix reporter who attended the session, one part of the college's "Welcome Week" for incoming students. Students were told this session was mandatory and they were led into the gym by their orientation leaders.
Wise told the students they should adopt the university's diversity principles or they likely don't belong.
"We don't have to agree on everything, we're going to have a lot of disagreements, political, social, all types of disagreement because that's what we do as people," he said. "There are some core principles when we talk about building a diverse and inclusive community that really are not negotiable, so if you have a problem with those principles you have a problem with this institution, and you probably chose badly."
Wise told the students the university has embraced notions such as pluralism, equity and diversity — even if much of the rest of American society has yet to catch up.
"You don't have to like it, I know that there are some folks who don't. I know that there are some folks who are very nervous," he said. "They get talk shows on Fox News and they go on and they say things like, 'Oh my God, the demographics of our country are changing.'"
"…The whole notion of who does and doesn't belong is up for debate, apparently, for some people," he said.
Wise talked a lot about how society is divided by class, race, gender, sexuality and other identities, pointing to these divisions as indications that America was never a great place for a large portion of the country. During a Q&A session that followed his speech, he defended New York Governor Andrew Cuomo's comments that "America was never that great."
"The reality is the country never fully functioned for millions of people, it was never really such a great place for millions of people. That's true. I know it hurts people to hear that, I know the governor of New York made that comment the other day and got attacked for it," he said, adding "that's sort of the reality of the situation" for a "vast majority of folks."
During his speech, Wise said no one accomplishes anything alone, that everyone has help, and the idea of the "rugged individual" is a myth.
"That's like Genesis 1:1 of America, the very first chapter and verse of the Bible of this country is that notion of rugged individualist, 'I can be anybody I want to be.'"
But achievement is instead mostly a result of privilege, opportunity and luck, he said.
"You'll hear people say that, 'I made everything on my own, I went from nothing to something, I did everything by myself," he said. "Nobody grew up on their own, nobody did anything alone. But we act like that's the case and then we forget to help other people."
On the topic of race, he said the older generation did not fix the problems of inequality, and now it's something the younger generation must grapple with, but many are in denial.
"We've internalized the biases," he said. "I know we don't want to admit it because everybody wants to say they're not racist."
He used a hypothetical example of a white person saying they have black friends.
"I don't believe if you say you have black friends," he said, arguing statistics show that a white person who claims to have black friends is incorrect by citing a survey in which 142 million white people claimed they had "many" black friends. Plus, Wise added, even if a white person has black friends, that does not mean they're not racist.
"The fact that you have black friends or Latinx friends or Asian friends, what does that have to do with being racist? Because if that was enough to get you off the hook of racism then every straight man in this room could say, 'I can't be sexist. I date women,'" he said. "Are heterosexual men not sexist because they date women?"
After his 45-minute talk, a round of student questioning prompted one black female student to ask about how to get white people to listen to people of color.
"Trying to get white folks to listen to the reality of racism is frustrating and it's exhausting," Wise responded. "It's exhausting for me as a white person to get other white people to see it, I can only imagine how exhausting it is for people of color."
He elaborated on the need for straight people to help LGBT people overcome "straight supremacy" and said even white people can be marginalized because of their economic status, sexual orientation or disability.
He also said white people do not have any idea how to handle pain or economic hardship in the same way that people of color do, claiming white people were "freaking out" more than people of color during the 2008 economic crisis, and also crediting the opioid epidemic to the inability of white people to cope with their problems.
"Now we got these white folks that are dying from heroin overdoses and fentanyl overdoses and opioid overdoses because they're medicating pain that they weren't prepared to handle," he said.
He also blamed patriarchy and sexism for causing men to "die early" because men aren't allowed by society to express their emotions.
"As a white man who does this work, there are times when this prominence becomes a problem," Wise concluded. "My responsibility is to hold up the work of people of color."
According to Wise's website, he will make several other appearances at colleges across America this coming school year.
In an email to The College Fix, Luke Sacks, head of media relations, said Wise was paid $5,000 for his speech.
"Tim Wise's presentation, which focused on how each student can play a role in creating an environment of belonging, would be valuable for our incoming students to experience," he wrote. "The college furthered the discussion by hosting an installment of our Critical Conversation series two days after his presentation which allowed students who wished to participate the opportunity to discuss and expand upon the topics covered in his presentation."
Listen to the speech here.
MORE: Top 5 PC things to expect at freshmen orientation
IMAGE: YouTube screenshot
Like The College Fix on Facebook / Follow us on Twitter